After 180 years, St. Andrew's Episcopal still serves and welcomes Ann Arbor
Posted on Thu, Feb 18, 2010 : 5:30 a.m.
Melanie Maxwell | AnnArbor.com
Editor's note: This is the first in an occasional series of articles on congregations in the Ann Arbor area.
With its ornate Gothic architecture, St. Andrew's Episcopal Church is a mosaic of 19th-century art and history: A chapel with stained-glass walls and doors, an exterior made of stones and a pew bearing a plate from 1869 mark this church as a living piece of history. St. Andrew's is the oldest operating church in Ann Arbor and continues to be an integral part of the community.
The church is well known for the free, hot breakfast it has served every day - rain, shine or anything else - for the past 27 years to anyone who wants it. It has more children registered in its programs than any other in the Episcopal Diocese of Michigan, and church members have focused on outreach for the past 50 years. The church also makes openness a hallmark of its philosophy and welcomes people of all sexual orientations.
"We're not just a neighborhood church, but we're a little bit of everything," said the Rev. Svea Gray, the deacon at St. Andrew's since 1985. "Everyone is welcome here."
What started in a neighborhood house in 1827 became the second Episcopal Church in the state of Michigan. Between 1867 and 1869, the church constructed a building at the corner of Division and Catherine streets. Little by little - from the nave to the chapel to the bell tower - St. Andrew's grew in size. But through all the additions, St. Andrew's stuck to its Gothic Revival style of architecture, both inside and out.
Today, sunlight streams through the numerous stained-glass windows that line the walls of the cavernous nave of St. Andrew's. A few of the windows, upon close inspection, draw particular attention because they are personalized memorials to beloved church members of the 19th century.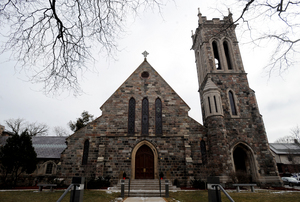 Melanie Maxwell | AnnArbor.com
Some of the walnut-and-butternut pews contain reminders that, long ago, members rented pews for their families to sit in during services. Six rows from the back, a pew bears a brass plate that reads: "Edmund Erskine Brady, Student Pew, 1869." Knowing that students could not afford to rent pews, Brady provided funds so that students at the University of Michigan could attend services for free.

Stones from Pewabic Pottery in Detroit line the main aisle of the nave. Since 1916, countless footsteps have given the stones a smooth, worn finish.
To maintain the beauty of its interior, St. Andrew's recently completed a two-year renovation project. "We have a wonderful new roof, made of Vermont slate, and the stained-glass windows have been re-grouted and re-leaded," Gray said. "We've replaced the old horse-hair pew cushions, and the floors have all been redone."
As the first Episcopalian church in Ann Arbor, members of the St. Andrew's founded the city's other Episcopalian congregations through the years. Those now include St. Clare's, Episcopal, St. Aidan's and Canterbury House.
Still, St. Andrew's most enduring legacy remains its daily breakfast. Volunteers serve between 100 and 150 people every morning, or sometimes more.
"We served 160 people this morning," Gray said on a recent day. "Some people are homeless, but many people have minimum-wage jobs and the breakfast really helps with their budget. … We are officially a 501(c)3 organization, but our funds are primarily provided by private donors."
A concert entitled BreakFest 2010, at The Ark Feb. 26, will benefit the breakfast program. Musical artists from around the world will perform.
While the breakfast program provides oatmeal, juice, fruit, coffee and more to those who need it, it also provides something else - a shared purpose and sense of community. Volunteers lend a hand before going to work, and people of other religious denominations often pitch in. Even the children of St. Andrew's can pick up on the spirit of service the breakfast fosters.
"It's really a community effort," said Nancy Heusel, director of the church school.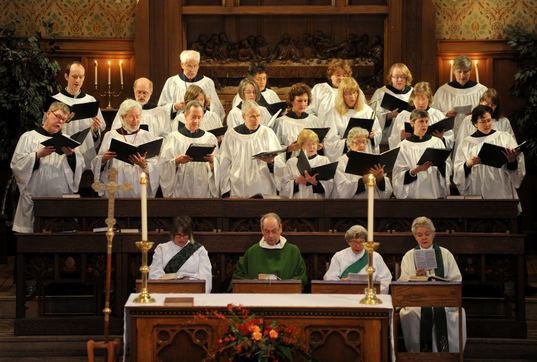 Melanie Maxwell | AnnArbor.com