Cairn to Cairn plays preview show at First Congregational Church on Dec. 12
Posted on Wed, Dec 8, 2010 : 6:30 a.m.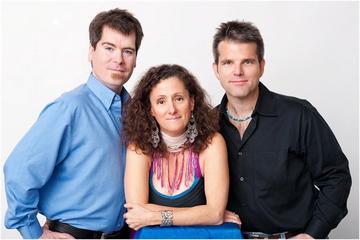 Rob Crozier, Kelly McDermott, and Terry Farmer (left to right).
The First Congregational Church will feature the band Cairn to Cairn on Sunday, Dec. 12 at 12:10 p.m. in the sanctuary. Come get a sneak preview of the music that has earned this local group a return invitation to The Ark; they play a show that same night at 7 p.m.
Ann Arbor's Cairn to Cairn (pronounced karn to karn) is the trio of vocalist-guitarist Terry Farmer, vocalist-flutist Kelly McDermott and bassist Rob Crozier. Cairn to Cairn creates a potent blend of Celtic, folk, world and original music. Blending classical technique with rock and roll and folk songwriting, the band is making a name for themselves in the Midwest and Canada.
Never satisfied with the status quo, these talented musicians continue to look for the next cairn (a cairn is a wayside marker, usually formed from a pile of stones).
For the Dec. 12 service at 12:10 p.m., Cairn to Cairn will present ancient carols, contemporary works and several pieces illustrating the Christmas Story. The show is part our worship celebration and is therefore free. Hope to see you there!