Posted on
Mon, Oct 24, 2011 : 10:36 a.m.
Dan Ariely to be keynote speaker at Jewish Federation Main Event
By David Shtulman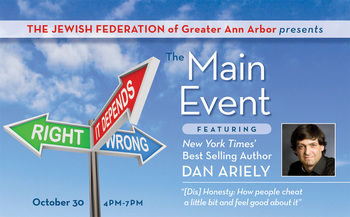 Dan Ariely
,
behavioral economist and bestselling author
of "The Upside of Irrationality" and "Predictably Irrational," will keynote the Jewish Federation of Greater Ann Arbor's 11th annual Main Event program on Sunday, Oct. 30 at 4 p.m. at Washtenaw Community College's Morris Lawrence Hall. Ariely's topic is "[Dis] Honesty: How people cheat a little bit and feel good about it."
The Main Event is the signature event of the Jewish Federation program year and also serves as the organization's community fundraiser in support of Jewish communal agencies and activities.
Event co-chairs, Hillary Murt and Bruce Friedman with Mark Bernstein and Rachel Bendit have planned a different type of event than the previous ten Main Event programs, replacing a formal table-seated program with a wine and Hors d'oeuvres reception followed by a program with auditorium seating. Ariely will sign copies of his books for sale during a final dessert buffet to close the program.
Food service by Simply Scrumptious Catering will be kosher dairy under the supervision of the Detroit Vaad.
Community members who have not yet registered for the Main Event can do so by calling the Jewish Federation at 734-677-0100 or online at www.jewishannarbor.org. The cost of the event is $36 per person plus a minimum pledge of $100 per family to the 2012 Annual Campaign. Attendees will have the opportunity to make their pledges at the event.
The Main Event is generously supported by a grant from the Ford Motor Co. Fund.
David Shtulman is the executive director of the Jewish Federation of Greater Ann Arbor. He can be reached by e-mail at david@jewishannarbor.org and by visiting www.jewishannarbor.org.