Posted on
Mon, Nov 22, 2010 : 10:57 a.m.
Dominican Sisters of Mary appearing on Oprah Winfrey show Tuesday, for second time
By Pam Stout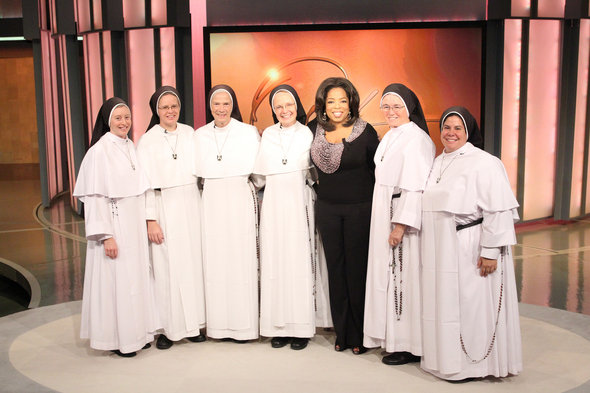 Photo copyright: Harpo Productions, Inc.
Oprah Winfrey seems to have taken a keen interest in the local
Dominican Sisters of Mary, Mother of the Eucharist
community. In February, Lisa Ling profiled "a day in the life of nuns," on the Oprah show as shown in
this video clip
.
On Tuesday, the Dominican Sisters community will be featured as part of a show on unconventional weddings. According to representatives from the convent, the show will feature the experience of a Sister entering religious life and the meaning of religious profession as being "married" to Christ.
Oprah's production team filmed the First and Final Profession Masses and this year's Entrance Day, during which 22 Aspirants we welcomed to the community. It will include interviews with the four foundresses of the convent as well as other Sisters.
Sister Maria Gemma Martek explained the community's perspective on the media spotlight via email:
"The response from the first show was so positive that the Sisters were asked if we would be open to another opportunity to share our life. We have accepted this invitation in the hopes of reaching an audience we might not otherwise reach with the witness of our life and the Gospel."
The Oprah Winfrey show airs daily on WXYZ channel 7 at 4 p.m.