Posted on
Thu, Sep 15, 2011 : 8:20 a.m.
Dr. Fairfax Fair to be installed as new senior minister at First Presbyterian Church of Ann Arbor
By Janet Miller
The Presbyterian Church had always been part of Fairfax Fair's life, starting as a child growing up in a small town in southern Arkansas.
But it didn't occur to her to enter the ministry until she was faced with a crisis in her early 20s: Pregnant with her first child, Fair's husband was diagnosed with terminal cancer.
"During that time, I felt the call to the ministry," she said. "My faith in God never waivered. I knew God was there for me. There was no way I would have made it through my husband's illness without it."
After her husband's death, Fair packed up her young son and took off for seminary school in Richmond, Va. Her first order of business was to learn Greek. And then Hebrew. She was ordained in 1988.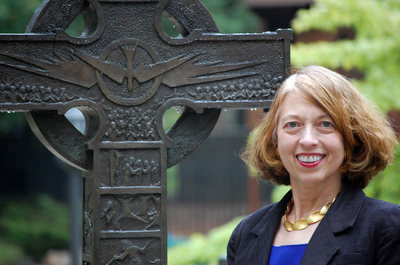 Janet Miller | For AnnArbor.com
Growing up, there had been no role model for women entering the ministry, she said. "I'd never seen or heard of a woman in the ministry. It wasn't even an option growing up, although I knew I wanted to serve people."
But the so-called stained glass ceiling was beginning to break when she entered seminary school.
Years later, Fair has been tapped to lead the First Presbyterian Church of Ann Arbor, with 1,800 members, one of the largest churches in the city. She is also one of only a handful of women senior pastors in the country to head such a large Presbyterian congregation. Fair will be installed at the 9:30 a.m. Sept. 18 service.
She replaces the Rev. Doug Brouwer who left in April 2009 to become the senior pastor of the First Presbyterian Church of Ft. Lauderdale.
With the Presbyterian Church, there is a three-way call by the congregation, the pastor and the regional Presbytery, in the case, the Presbytery of Detroit. "The congregation votes to extend the offer, I accept and the Presbytery blesses it," Fair said.
She comes to Ann Arbor from Louisville, where she was the senior pastor of the 1,200-member Highland Presbyterian Church. Before that, Fair served at churches in Texas and Tennessee.
She sees a number of issues facing her new church, from being a voice against religious extremism to reaching out a helpful hand closer to home.
"We as a mainline church need to reclaim our voice in the public debate," Fair said.
"In the media, the voice of Christian Protestants has become the religious right. This church as a leader in the community needs to step up and show that to be a Christian is not to be an extremist. It is to stand up for justice and work for peace. We need to forgive one another. Show love. Work for the needy."
Because of the size of First Presbyterian, the church has a responsibility to make a difference in the community, Fair said. A new Local Ministry Task Force will help guide the church to reach out close to home in addition to its work overseas.
"We have many gifts and abilities we need to use for the common good," she said.
She would also like to increase interfaith relations, reach out more to the university community and to grow membership.
Fair has served at five churches, each time breaking the gender barrier. Women are making their way into the ministry.
"It's happening, frankly, more quickly than I had imagined," Fair said. "I truly believed that it was going to be the next generation of women to have the opportunity to lead a large church like this."
Still, the stained glass ceiling has only cracked. When Dr. Fair was introduced recently, the new acquaintance assumed she was the wife of the new minister.
There's a story behind her name. Fairfax is a family name, her grandfather's middle name. And Fair was just the luck of the draw. Her husband's last name was Fair. "My mother did not name me Fairfax Fair," she said.
Fair moved to Ann Arbor in May in order to settle in. Yes, the North is different from the South, where she has always lived.
"But I think the biggest shock is yet to come," Fair said. "Winter. And I thought Louisville was cold."
While she served in Houston, she's never lived in a university town. That, she said, is exciting.
"Around Aug. 9 or 10, students started to return and I could feel the city start to simmer," she said. "There was music coming from the frat houses down the street and kids cutting through our building to get to class. It's a great infusion of energy."
The sprawling, historic church built in 1937 is located at 1432 Washtenaw Ave., adjacent to campus. The church was founded in 1826, just two years after "Annsarbour" was founded and well before the University of Michigan was moved here. It had a number of locations over its history, including holding services on the second floor of taverns.
Janet Miller is a freelance writer and a frequent contributor to AnnArbor.com.