Posted on
Mon, Jul 26, 2010 : 6:30 a.m.
Envisioning a new future for mainline Protestants: pubs and piercings?
By Pam Stout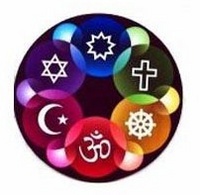 Design by Flickr user vaXzine
Patheos.com, in its summer series on
The Future of Religion
, explores many questions this week on the
Future of Mainline Protestantism
.
"Mainline" Protestants include the largest branches of Presbyterians, Lutherans, Methodists, Episcopalians, and other traditional denominations. Patheos invited Protestant thinkers to explore how traditional denominations will "retool" themselves for a new century, given the "well-documented mainline decline" in membership.
Sam Alexander, a Presbyterian pastor in San Rafael, Calif., implores fellow Christians to face changes for the future:

"We can hang onto what we have been ... we can hang on to our endless, divisive fights for purity and justice; we can proceed with our useless, interminable efforts to get a culture that has left us behind, to come back; or we can commit our last breath to a still more glorious dawn just now beginning to rise. ..."
Jim Burklo, dean of Religious Life at the University of Southern California, sees hope in the "remarkable creativity springing out of hundreds of progressive congregations and groups in the U.S. today."
Phillip Clayton, professor at Claremont School of Theology, argues that a change in theology is not needed, but "new visions of what the church is and what it does" is needed. He says that new churches will "stretch and challenge you ... take openness to forms and practices you've never seen before," including:

"churches that meet in pubs, office buildings, school classrooms, or homes;


"churches that have no leader, or have leaders who don't look like any pastor you've ever known (OMG, what if they have piercings?);


"pastors who are hosts to discussions, who can listen long and deep to doubts and questions before presenting the answers on which they center their lives;


"churches that don't have buildings, denominations, pastors, or sermons; that don't meet on Sundays; that consist mainly of people who don't call themselves "Christians";


"churches whose participants are drawn from many different religious groups; churches full of "seekers"; churches that consist mostly of silence (like the Quakers) or of heated discussions between participants."
Go to Patheos.com for more essays on the Future of Mainline Protestantism by the following authors: Rev. Jerry. D. Campbell, Adam Walker Cleaveland, Monica A. Coleman, James Calvin Davis, Kenda Creasy Dean, Bruce G. Epperly, Greg Garrett, Anne Howard, James J. Kang, J. Ryan Parker, Brian McLaren, David LaMotte, Anthony B. Pinn, Robert John Russell, Josef Sorett and Peter Wallace.

The website will offer new articles each day this week, including interviews with denominational leaders Bishop Larry Goodpaster (United Methodist Church) and the Rev. Bruce Reyes-Chow (Presbyterian Church USA) on the future of mainline denominations.

Pam Stout covers Faith and Home & Garden coverage for AnnArbor.com. She may be reached at pamstout@annarbor.com.