Posted on
Fri, Nov 12, 2010 : 8 a.m.
Family Devotions: Be a model for your children and create family memories
By St. Luke Lutheran Church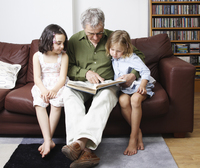 Now that you have learned to set goals and instill habits early from Part 1, read on to learn more about the importance of family devotions and how to implement them into your busy lifestyle.
Spiritual Development and Prayer
Spiritual development is not something that happens by a certain age or time, like reaching a goal. It is a lifetime journey, and they need help getting started. I can honestly say that personally, I am not there yet.
Spiritual development encompasses a variety of issues, including how a child views himself and the world around him. Children need positive self esteem so that they honor their own bodies as well as their friends and others around them.

We need to model for our children reliance upon God for our every day needs as well as support in tough situations. Where do we go when we need help and guidance?
Hopefully, praying to God for wisdom and insight is a daily occurrence. We are not the ones transforming our children, but it is the power of prayer and the Holy Spirit. God does not expect us to be perfect and know all the answers — he just expects us to be available and to supply the resources for our children to grow and learn. God expects us to be role models to our children by being in The Word and praying with and for our children. God will do the rest, sometimes through us and sometimes in spite of us!
Journal prayer requests and answers to prayer — it can be very powerful for all of you. Raising children pushes parents to mature in their faith as much as it moves children toward spiritual wholeness.
Family Memories
Family devotions give everyone a chance to share and be a part of the experience.
It gives parents or grandparents an opportunity to share some of their own life experiences and how God helped to shape their life, whether they knew it or not at the time. I have enjoyed having my children's grandparents share about when they were young with the children. The children enjoy hearing the stories and see that God has been with them all their life. The added benefit is that the grandparents feel honored to be able to share.
Preschool children are very literal and sometimes can't quite grasp all the "theological terminology" that we might use to talk about God. I am reminded of when I did child care from my home.
One day while on a walk, one of my boys who was five at the time, said to me, "You said that I can ask Jesus to come into my heart." Very excited, I said, "Yes. Do you have questions about that?" With a confused look on his face, he said to me, "Well, how does he get there? I mean, I know sometimes you go get Don from the airport — do you have to go get God from someplace?" I tried not to laugh, yet my heart was leaping for joy.
We discussed it some more, and he said that he would think about it. Later that same day, while making lunch, I had all six children sitting at the dining room table and he said, "OK, I'm ready."

Thinking that he was asking for lunch, I said, "Yes, lunch is almost done." "No," he said, "I'm ready to ask Jesus into my heart."
Looking at the hungry children, and then at him and back at them again, I wanted to ask him to wait till after lunch, but I knew better. I took lunch off the stove, fed the children a snack and prayed with this young man who accepted Christ as his personal Lord and Savior that day.
Never underestimate what God will do in the heart of children, when you open God's word with them and model a Christian life to them.
Please remember God does not have grandchildren. We need to teach our children that they can and should have a personal relationship with Christ.
Children are our future; we need to minister to them so that Christianity is carried on. Children are important people, not merely because of their future value, but because of their present value. Little children were and still are important to Jesus. When we see children as Jesus sees them, ministering to them becomes a priority.
God's word reminds us of just how important family devotions are…
Deuteronomy 4:10: Assemble the people before me to hear my words so that they may teach them to their children.
Joshua 24:15: As for me and my house, we will serve the Lord.
Psalm 78:5-6: He commanded our forefathers to teach their children, so the next generation would know them, and they in turn would tell their children.
When my kids were younger, I never really understood when people would tell me, "Blink and they have grown up." Well, now I do, so treasure every day and use it to the Glory of God.
To find Family devotional resources check out these sites:
http://www.christianbook.com/
http://www.familychristian.com/

Janette Haak is the Sheepfold Coordinator at St. Luke Lutheran Church and holds a master's degree in education with a ZA endorsement. She home schooled her children for 12 years and is now a remedial reading tutor.