Posted on
Tue, May 11, 2010 : 5:05 p.m.
St. Andrew's priest provides blessing of bicycles for cycling enthusiasts
By Pam Stout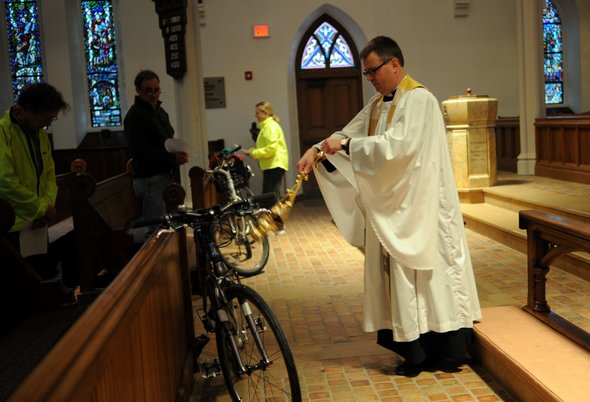 A small but passionate crew braved wind and rain on Saturday morning to attend a ceremonial blessing of the bicycles by
Father Alan Gibson
at
St. Andrew's Episcopal Church
in Ann Arbor.
Why, you might ask, would someone want a bike to be blessed?
"It's a good question," replied Liz Calhoun, who helped coordinate the event. "There's an ancient tradition of blessing everyday items," she explained, from homes and businesses to ships heading out to the open seas. Safety and protection are certainly factors, but there's also something special about invoking spiritual connection with tangible items.
According to Calhoun, Gibson had some fun with the blessing ceremony, which included a reading of Psalm 67, prayers, and blessing with holy water and incense. The group held a moment of silence to remember cyclists who have died in biking accidents. On the way out the door, the priest blessed the bicycle of one guest of the church's breakfast program.
Although the weather may have dampened attendance, Calhoun remarked that perhaps those who made it were the ones who needed a blessing most, as they headed home through gales of wind and traffic.
She's looking forward to May 7, 2011, when the date for the second annual Blessing of the Bicycles is already set. Pam Stout coordinates Faith and Home and Garden coverage for AnnArbor.com. Contact her at pamstout@annarbor.com to share news about your faith community.