Posted on
Fri, Jan 7, 2011 : 12:30 p.m.
Getting in shape and other failures: New year's resolutions for God
By Benjamin Verdi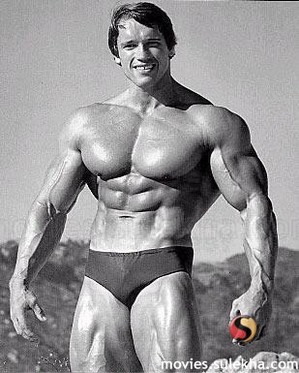 image courtesy of "movies.sulelka.com"
I broke one of my cardinal rules for this post-New Year season. I went to the gym. I'm upset by what met me once there but cannot possibly claim to be surprised. Getting in shape wasn't even my new year's resolution, but still, like a plane on autopilot, I entered the Intramural Sports Building here on campus my first night back from break.
Gyms are packed tightly after the holiday season for many reasons that vary from person to person, but the main reason is that people tend to reevaluate themselves, their lives, right at the cusp of every new year. And, sadly, we all generally arrive at the same conclusion: I don't look good enough.
Now, many people want to head back to the gym because of pounds they put on during the holidays. Honestly, it probably wouldn't hurt a few of the people I saw at the buffet-style restaurant my family goes to for Thanksgiving to hit the Stairmaster once in a while.
But the interesting thing is that these people who clog the gym this time every year are likely the same people who did so last year, and who, every February, resettle into their same old life and body.
It may be inaccurate to say that everyone is unsatisfied with the way they look, but when we honestly look at ourselves we tend to spot flaws we don't see unless we're actively trying to better ourselves. Or, at least, make ourselves look better.
I guess the reason why this phenomenon inspires me to write is not so much that I find it hypocritical and self-indulgent, but because I fear that this type of thinking, living, is one I embrace as well.
While I'm a more avid gym-goer than a guy who's been trying to lose the same 10 pounds for 20 years (until I get fat, I should say, which, looking at my family, is projected to occur sometime around 2035, right around when I've estimated we'll elect our first female president), I leave projects unfinished all the time. I start writing stories that I become so passionate about that I push all my homework aside and adjust my schedule to accommodate my newest idea best. I buy books regarded as classics and try my hardest to get through them, but I rarely do because of how inaccessible some of the world's greatest literature can be. I forget how much work I'm signing up for.
I write things into my schedule months in advance that never get done, and, more than that, I don't even look at my schedule when deciding what to do on a day-to-day basis. I sooth my mind by planning out my year, and then I suppose I sooth my soul by trying to live as spontaneously as possible.
The hypocrisy of "the gym resolution" can't even escape me, as I mentioned earlier, because I only decide to work out regularly when I feel the least in shape.
When my projects fail — and I break the promises I make to my planner — I have no choice but to step back and ask myself what went wrong.
Why did I give up on that book? When did I stop trying to participate in class? How come I don't still talk to my parents every day? What happened to the weekly surprise I was going to have for my girlfriend?
Maybe I'm a two-week gym-goer in everything.
My academic, social and spiritual lives, it appears, are only things I try to improve for short periods, only when I feel like they've gotten bad enough to be embarrassing, like a flabby gut hanging for all to see.
I'm fine with not talking to people for long stretches if I personally am doing all right. And then, when I need someone to talk to, I complain about how people don't have enough time for me. I worry that I'll never be a successful writer but spend more time planning out stories and times to write them than simply sitting down and doing it. And I'll go days, weeks even, without praying, without any communication with God at all. But then, something will shock me back into realizing how far I've regressed, and only then will I feel the urge to involve God in my life.
And I get in better spiritual shape for the same reason I get in better physical shape: to look better. But inside, I'm the same. Once I'm maxing out on God again, I put him back on the rack, staring at my muscles until they disappear.
I don't know why I fear my own involvement and investment into the plans I make. I don't know why I can't bring myself to write more, nor do I know why I think I only need God sporadically.
What would it be like to be in spiritual shape all the time? I can't say, for the same reason I don't know what it feels like to bench-press 400 pounds. I suppose it's because I only try to get in shape for me, my own gain, and that's why my determination withers as the year goes on. Maybe I'd succeed if my reason for getting in better shape were something more lasting, less seasonal than my own guilt or self-esteem
Maybe something that lasts for all eternity.
But who has that kind of time?
Ben Verdi is a man with a laptop and Bible and a nasty curveball. He can be reached at jetboiz@aol.com.