Posted on
Mon, Aug 30, 2010 : 6 a.m.
God, the perfect artist, creates beauty by making other things collide
By Benjamin Verdi
Have you ever heard people standing at the edge of a Great Lake, or an ocean that's freezing cold? They all say the same thing about the best way to enter the water, but few ever actually practice what they preach.
"The best thing to do is just run and jump right in." How many people have you heard say that as they themselves are wading in slowly like little kids afraid to let the water get above their navel?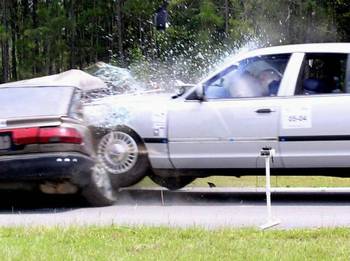 You're not evil for staring ... they're just dummies. (photo taken from cliffprosser.com)
People also tend to agree to disagree about car crashes. "They're terrifying and deadly, but I can't look away when I see one." Why is that? If we think honestly, perhaps out of earshot of anyone who was recently in an auto accident, we can look upon colliding cars and learn something about ourselves, and about our world. The honest truth is that there is a lot of beauty to be found in collisions like these.
Collisions, like those between cars or between people and freezing water, are invitations to see the world in a different way, for change, and for beautiful experiences to be revealed.
By now you certainly disagree. Car crashes are not beautiful, and neither is jumping in a lake! But convincing you to believe that those things are beautiful is not the point. The point is coming, and anyone who has ever stared at a car crash or been hesitant to jump into chilly water will want to read on.
All beauty in this world comes from collisions between things that already existed, so we rarely ever see true beauty coming. Two muddy flatlands can exist for thousands of years, but when they collide they form these things that can be seen from miles away, even from space. A desert can be little more than a pile of dust, but when a river runs through it, colliding with rocks and carving the ground itself, something as beautiful as this is revealed.
By looking for beauty in the world we can learn a lot about the way the world works, and most importantly, about the One who made it.
God is an artist above all things. He created Heaven and Earth. He was not assigned, or commissioned to build them. Everything in this universe is not only His property, it is His idea. His Creation. And, at the most fundamental level, the way God creates His beautiful things is by making other things collide.
We humans, His self-proclaimed greatest creations, are nothing more than the result of "love collisions" (giggle) between two people who already exist. And we would not be who we are today had we not collided with as many different people as we have been fortunate enough to encounter. When the human heart collides with something as immovably immense as a dire set of circumstances, a tragedy, an abuse, or a war, often incomparably beautiful art is borne from it.
Art depends on internal collisions of will and inspiration within artists themselves. There must be a collision within an artist between a lofty inspiration to create some beautiful, and a head-down, strapped-in work ethic that sacrifices more than it plans to in order to get the work done. How many artists tragically fall too far to one side or the other? How many have all the inspiration in the world, but not an ounce of discipline or desire to get their hands dirty? How many are willing to alter their entire lives and give up everything they have to pursue and create something that they're not exactly sure how to define?
When beautiful poetry collides with horrible inner-city terror and violence, we get something as revolutionary as rap music. When a woman's mind seemingly collides with itself, inspiring her to write like crazy, we get someone as prolific as Virginia Woolf. When something as overwhelming as a father's death meets a little boy, we get someone as funny as Stephen Colbert. When God's perfect, loving inspiration for creating the universe has to collide with our weak, trembling planet, we get Jesus Christ.
Jesus is the tip of the pen with which God has written His creative heart's greatest desires on the scroll of eternity rolled out before Him.
According to Jesus, the point of all Creation, all of it put together, when God stands back, His brush between His teeth, to take it all in, is love. That's the message. It's what He wants someone who witnesses His beautiful work to "get." It is from a place of love that God created all things.
His loving inspiration is half of the reason why the beautiful universe exists today. The other half is God's unceasing work ethic that mirrors His love perfectly, making Him the perfect artist. If we submit to Him out of love, and long endlessly to witness His unending beauty, He'll most surely reveal it to us. The only catch, it seems, is that He doesn't let us experience His beauty on our own time, or at our own pace. If we want to see it we have to have enough faith to run and jump right in.
Ben Verdi is a man with a Bible and a laptop and a nasty curveball. He can be reached at jetboiz@aol.com.