Posted on
Tue, Nov 2, 2010 : 9:49 a.m.
Helping Hands: A respite night for parents at Grace Ann Arbor church
By Sung Kim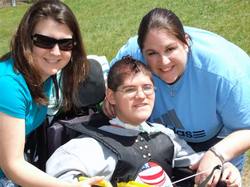 Photo by Kathy Pringle
By Sarah Reeves
Helping Hands - a respite night for parents of children with special needs and their siblings - is making its debut at Grace Ann Arbor church.
This idea came from an article on AnnArbor.com a few months ago about a similar event at St. Luke Lutheran Church in Ann Arbor called "Parents' Night Out." I was very inspired by this article, and one quote from Pam Kamrath, coordinator of the Special Needs Ministry events at St. Luke's, particularly caught my eye : "My hope is that other churches will see what we are doing and want to learn to implement this program at their church."

I immediately contacted Pastor Sung Kim in complete excitement to begin planning how we could make this night a reality at Grace Ann Arbor. I met with Pam at St. Luke's and was amazed with her heart and dedication to these parents and their children. It reinforced the continuing need for additional nights like this in the community. I spent time puzzling over a name for the night (thanks for the help, Dad!), praying and thinking, "Where will we find the volunteers? Where will we find the kids?" And, now two weeks away, here we go!
Helping Hands will take place at Grace Ann Arbor (2803 Boardwalk Drive) on Friday, Nov. 12 from 6 to 8 p.m. The night will be filled with activities, games, snacks and videos. We are going to have volunteers that are dedicated, kids who are excited and, most importantly, parents who are delighted to have a few hours alone. It is going to look a lot like Parents' Night Out at St. Luke's - but why shouldn't it? They have an amazing, well-developed program -- we are not in competition, but continue to help fill a need in the community. Collaboration between churches strengthens a community as a whole.
I am not a parent of a child with special needs. I began volunteering at Trails Edge Camp in 2003, a week-long camp for children who are ventilator-dependant. This camp caters to those children who were previously thought "too fragile" to attend camps. I'm not sure what is "too fragile" about horseback riding, fishing, pulling pranks on the girls' and boys' cabins and getting to go into a tree house that is accessible for all children - all examples of things the children do while at camp.
One of the most remarkable parts about Trails Edge Camp is giving the parents a week off, because these parents are generally caregivers to their children 100 percent of the time. This is why Pam's request for more churches to be involved instantly grabbed my heart. Parents of children with special needs give all of their time to someone else, every minute of every day. At Grace Ann Arbor, we can definitely give just a few hours of our time to thank them for what they do on a daily basis. I am looking forward to this night and how it will continue to grow in the future, both at Grace Ann Arbor and in the community.
If you are a parent who would like your child (and siblings!) to attend Helping Hands, please contact Sarah Reeves at HHandsA2@gmail.com.
Sarah Reeves is a member of Grace Ann Arbor.