Posted on
Fri, Dec 24, 2010 : 6:30 a.m.
Hometown holiday traditions: Las Posadas and luminarias
By Pam Stout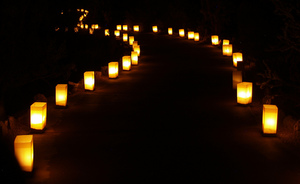 Photo by Flickr user Chris Runoff
This year my family will be celebrating a storybook-style Christmas in the north woods of Wisconsin. We're almost guaranteed to have a fresh blanket of snow, a hand-cut tree from the forest, and chestnuts roasting on the wood stove.
Growing up in southern New Mexico, this kind of holiday was something I could only imagine through caroling and story books. I couldn't wait to live in a place where I could experience a "real" Christmas like the media told me I should.
I didn't appreciate my New Mexico heritage nearly enough as a child, but today I yearn for a couple of hometown holiday traditions around Christmas Eve: Las Posadas and luminarias.
Las Posadas (meaning "the inns") is a re-enactment of the quest of the Biblical Mary and Joseph to find a place for the birth of Jesus. Typically, neighborhood pilgrims (peregrinos), led by Mary, Joseph, and sometimes a donkey, parade from house to house requesting shelter for the night through a special song.
Door after door, the pilgrims are refused lodging until they reach the fiesta location, where they are finally welcomed with prayer, food and a piñata. According to Wikipedia, las posadas traditionally go on for nine nights, finishing on Dec. 24 with a trek to midnight mass.
I never participated in a full nine-evening Posadas myself, but I loved the parties, the parades and the embrace of this Hispanic cultural tradition in my American town. While I wasn't part of the Catholic community that performed the Posadas, I grew to appreciate the beauty of the spectacle and its symbolism: open hospitality for the lonely, the needy and the downtrodden.
Luminarias are another tradition my heart pines for on Christmas Eve. I think some folks here call them "luminaries," but to me that sounds like "MackiNACK" would to a Michiganian. These paper bag lanterns lined the streets, sidewalks and flat roofs of homes on Christmas Eve to, according to tradition, light the way for the Christ child.
Sometimes my friends and I charged a dollar a dozen to prepare luminarias for the whole neighborhood on Christmas Eve. We'd set up an assembly line folding the tops of paper bags and filling them with an inch or two of sand. Then we would fill up our wheelbarrows and line the bags carefully down the street. The best part was the precarious task of lighting the candles at dusk without setting fire to the bag.
The glow of the candlelit luminarias was something special, only reserved for one night a year. We would walk or drive through the best neighborhoods with lights out and a hush of peace in the air.
When I moved to Michigan, my family sent me a string of electric luminarias to line my sidewalk, but it just didn't fit the landscape. I knew we would have to adopt or create our own traditions in my new hometown, and we have.
But I still have the urge to fold down the tops of our lunchbags and light a candle inside sometimes.
What about you? What hometown holiday traditions do you miss — or have you adopted?

Pam Stout coordinates Faith & Home & Garden coverage for AnnArbor.com. She can be reached at pamstout@annarbor.com