Posted on
Tue, Mar 22, 2011 : 7:08 a.m.
How religiously literate are you and your family?
By Interfaith Round Table of Washtenaw County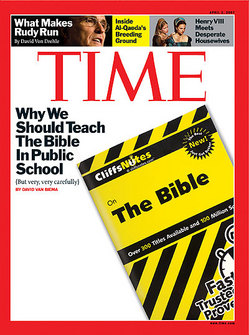 Time Magazine
When a visiting authority on religious studies argues that to be truly educated one needs to know not only about politics and economics, but also about religions, I investigated further. After all, I am an interfaith fan — a member of the Interfaith Round Table and coordinator of the Interfaith Living Library, and private teacher of religion for kids of intermarriage.
So off I went to meet Stephen Prothero (author of "God Is Not One" and "Religious Literacy") last month at the Michigan League and Rackham Auditorium. Prothero proved as lively and intelligent as he appears on the PBS documentary God In America and as personable and articulate as he comes across in his writing. What he said might inspire you, like it did me, to take the religious literacy quiz.
To prove his point that college kids lack the most basic knowledge about religions, including their own, Prothero conducted surveys of his Boston University students. He read some of the questions from that survey and was glad we laughed when we learend that some students thought Joan of Arc was Noah's wife. (Apparently, not every audience laughs.)
The results from administering the quiz were dismal. But I wondered if kids at different ages know different things about religion, if college kids are less concerned about religion and don't care enough to remember what they may have once known, if our schools are not teaching enough about religions, or whether knowledge of facts alone is sufficient for making religious sense of the world.
I couldn't resist the temptation to take Prothero's quiz. Although I'm an interfaith minister, I was nervous. I got all but one right. So I tested my family next. My 12 year old knew quite a bit, and I attribute that less to me being her mother and more to what she's doing in her social studies class.
My high school student, however, has no religion showing up in her current classes, nor is she interested in religion. Yet, I know she learned some of this material in elementary school and during a few years of home schooling. But religion is not reinforced the way science circulates in ever deepening layers as it migrates from elementary through secondary school.
I decided to run the test again on nieces, nephews and their friends aged 8-13. My sample size increased to seven. The results for this age were, again, impressive. Three kids attend a private Christian academy with a class on world religions. One went to Catholic and public school, although admittedly, his ability to recite the seven sacraments came from catechism.
These experiences, albeit limited and minimal, left me thinking that some kids are getting some textbook exposure to different religions. After all, learning about ancient civilizations in social studies includes the foundations of major religions.
But why are they forgetting it later on, or, never learning it in the first place, as mine and Prothero's results might suggest? Are public schools afraid to offer more religious studies as students get older? Is the teaching of facts and figures not enough? At what point do religious facts need to be balanced with real-life experience to make them meaningful, important, and perhaps, even worth remembering or caring about?
In addition to Prothero's argument for knowledge of religion as part of one's civic duty, I encourage experience as another way of cultivating that knowledge. Some of the ways to get that experience might include students visiting different religious services, interviewing people of other faiths and non-faiths, or discussing novels and movies that reflect experiences of different religions, or better yet, reflecting on or writing about their own.
To test your own religious literacy, take Prothero's quiz here.
The Rev. Lauren Zinn, Ph.D., serves on the coordinating committee of The Interfaith Round Table of Washtenaw County, organizes the Interfaith Living Library, designs interfaith ceremonies, teaches kids of intermarriage, leads religion tours and runs a one-week InterActive-InterFaith Summer Camp for kids.