Posted on
Tue, Dec 15, 2009 : 10:34 a.m.
Interfaith Round Table presents Divine Language of Music concert tonight
By Stephanie Fenton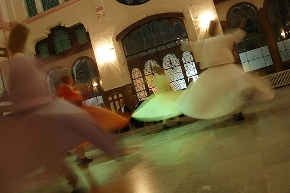 Photo courtesy of flickr
The universal language of music will be highlighted tonight when the
Interfaith Round Table of Washtenaw County
presents "
The Divine Language of Music
," a concert of music from the Jewish, Christian, Muslim and Hindu traditions. This concert will serve as the first part of a 6-part winter/spring series that explores the music of these different faiths. Music will be provided by a sacred choir from the Jewish
Temple Beth Emeth
; instrumentals from the Christian
Canterbury House
(or, more specifically, a ministry to the University of Michigan and sponsored by the Episcopal Diocese of Michigan); chanting and whirling from Sufi Muslim of Michigan; and dancing from the
Hindu Chinmaya Mission
of Ann Arbor.
The Interfaith Round Table of Washtenaw County is a collection of clergy and lay people of different faith communities in Washtenaw County that frequently holds dialogues with, according to the IRT mission, a respect for one another. The Interfaith Round Table aims to facilitate friendships as a dialogue group, and not using political means.
The Jewish Temple Beth Emeth has multiple choirs, and the adult choir - Kol Halev - sings at Holy Day services at the temple, monthly and at concerts throughout the calendar year. In 2004, the choir toured Bulgaria, Romania and Greece. The Canterbury House, on the other hand, is well-known for its instrumentals. During the past five decades, Canterbury House has hosted musicians such as Neil Young, Joni Mitchell and Gordon Lightfoot, and more recently, regional acts and student and faculty ensembles have been featured. Each Sunday at 5 p.m., Canterbury House offers a Jazz Mass with world-renowned musicians.
Sufi whirling, by definition, is an active meditation that is most frequently practiced by Sufi Dervishes of the Mevlevi order. This dance is often performed in efforts to reach the source of all perfection, or kemal. Through letting go of one's ego and listening to the music, Sufi Muslims focus on God and spin the body in cycles that mimics the planets' orbiting of the sun. Dance is vital to the Hindu tradition, and the earliest artistic performances were almost entirely associated with religion, according to Heart of Hinduism. Today, many of its dance styles reflect the spiritual themes present in the Epics, Puranas and other Hindu texts.
The Divine Language of Music will begin at 7:30 p.m. at the Temple Beth Emeth / St. Clare Episcopal Church, at 2309 Packard in Ann Arbor. Tickets cost $20 for adults, $17 for seniors and $12 for students with an ID, as this concert is a benefit for the Interfaith Round Table of Washtenaw County (additional charitable donations are also welcome and appreciated). For more information or for tickets, call George Lambrides at (734) 424-1535.
Stephanie Fenton covers Faith for AnnArbor.com. Stephanie can be contacted at Fenton.Stephanie@gmail.com.