Posted on
Sat, Nov 21, 2009 : 10:33 a.m.
Jewish and Catholic leaders to discuss God and the Holocaust
By Stephanie Fenton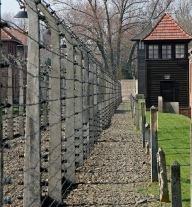 Photo courtesy of flickr
A challenging dialogue concerning God and the Holocaust will be discussed by Jewish and Roman Catholic leaders on Monday, at the Eastern Michigan University Student Ballroom at 7 p.m. The public is invited to attend this free event.
Dr. Guy Stern, Ph.D., director of the International Institute of the Righteous of the Holocaust Memorial Center Zekelman Family Campus in Farmington Hills will discuss a Jewish point of view. This year, the Holocaust Memorial Center Zekelman Family Campus celebrates its 25th anniversary as America's first freestanding museum dedicated to the memory of the Holocaust.
The International Institute of the Righteous honors the thousands of non-Jews who saved or attempted to save at least one Jew, with the knowledge that they were putting themselves in danger by doing so. As is quoted on the museum's Web site, "As it said in the Talmud: 'When someone saves a life, it is as if that person had saved the whole world.'"
According to the Wall Street Journal, some Jews are still in the process of escaping anti-semitism: Since July, about 60 Jews from Yemen have resettled in the U.S. to escape violence in their native country. According to officials, another 100 Jews are yet to come from Yemen. This secret evacuation will bring Jews from what is considered, by historians, to be one of the oldest Jewish diaspora communities.
Father John T. Pawlikowski, OSM, Ph.D., will represent the Catholic perspective in the dialogue. A professor of social ethics at the Catholic Theological Union and director of the Catholic-Jewish Studies Program at the Catholic Theological Union's Cardinal Joseph Bernadin Center, Fr. Pawlikowski hails from the largest Roman Catholic Graduate School of Theology and Ministry in the U.S.
The Jewish/Catholic conversation, entitled "Did God Survive the Holocaust," will be presented by Hillel at Eastern Michigan University and by Holy Trinity Catholic Student Parish. The moderator of the dialogue will be Dr Martin Schichtman, professor of English, and co-sponsored by the Division of Academic Affairs; the College of Arts and Sciences; the Department of Communication; the Media and Theater Arts; the Department of History and Philosphy; the Department of Sociology, Anthropology and Criminology; and the Department of World Languages.
The Eastern Michigan University Student Center Ballroom is located at 900 Oakwood in Ypsilanti, Mich. For more information, call (734) 740-2885.
Stephanie Fenton covers Faith for AnnArbor.com. Stephanie can be contacted at Fenton.Stephanie@gmail.com.