faith:

Jewish Federation welcomes newcomers at Shabbat in the Park

Posted on Thu, Aug 23, 2012 : 9:21 a.m.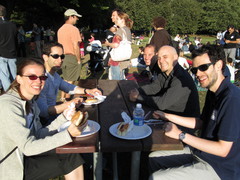 David Shtulman | Contributor
Shabbat in the Park is an annual end of summer social event and kosher barbeque that highlights the Jewish celebration of Shabbat with a picnic. Jewish singles, young families and newcomers of all ages to Ann Arbor are invited to come make new friends and share in this special happening.
This year's event will be at the Jewish Community Center, 2935 Birch Hollow Drive, Ann Arbor on Aug. 31 at 6 p.m. For further details and to register on-line, go to www.jewishannarbor.org.
Shabbat in the Park is sponsored by the Young Adult Division (YAD) of the Jewish Federation of Greater Ann Arbor. YAD is a network of socially conscious young Jews in their twenties and thirties who engage in a wide variety of cultural, social, educational and service oriented activities. YAD means "hand" in Hebrew and our hands shape the future. A full listing of upcoming YAD programs can be found on the Federation website: www.jewishannarbor.org.