Posted on
Thu, Oct 28, 2010 : 7:28 a.m.
Local churches welcome GLBT community
By Ann Dwyer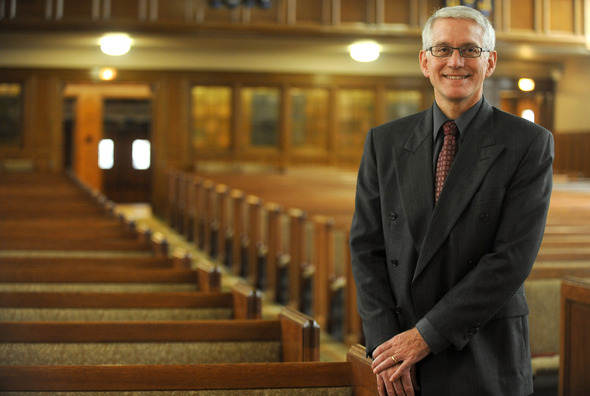 Angela J. Cesere | AnnArbor.com
For the
Rev. J. Douglas Paterson
, it's a simple matter -- churches should be a welcoming place. And when it comes to the gay and transgendered communities, it should be without judgment.
For years, the senior pastor at the First United Methodist Church of Ann Arbor has actively worked to change the church's view on sexuality and gender identity.
The Ann Arbor church is one of a growing number of so-called "welcoming churches." These churches allow full participation by those in the gay, lesbian, bisexual and transgendered community and do not regard these identities as sins.
Paterson does not believe in so-called "reparitive therapy" pushed by some Christian denominations that believe homosexuality is a mental disorder or an elective lifestyle that can be changed.
"If change needs to happen, it's not our job," Paterson said.
In 2007, members of the First United Methodist Church voted and passed with 90 percent approval a welcoming statement that declared their intent to be inclusive of all, including those in the GLBT community.
"All of the members knew we were voting on the issue to be welcoming to the LGBT community, and we had a good turnout." Paterson said in an e-mail.
Of course not all church members agreed to the new policy and a "handful" left. But they were easily replaced by those in the GLBT community, according to Paterson.
The welcoming statement does not change the language in the Methodist Book of Discipline, and clergy from other Methodist churches in the Detroit conference, which First United belongs to, have attempted to bring charges against Paterson.
But none of them stuck, he said.
Paterson finds the Book of Discipline, which outlines the Methodist church's policies, to be contradictory in regards to sexuality and gender identity.
While the Discipline says "Homosexual persons no less than heterosexual persons are individuals of sacred worth," it also says they do not condone the practice of homosexuality and "consider[s] this practice incompatible with Christian teaching," according to the First United Methodist of Ann Arbor website.
Regardless of any divisiveness he might encounter, Paterson remains optimistic. "In half a generation, this is not going to be an issue."
Others are not quite as optimistic.
Darcy Crain-Polly, the associate minister at the First Congregational Church of Ann Arbor, thinks acceptance in Ann Arbor is almost expected, but this is not the case for the rest of the country.
She says she first became aware how contentious the issue was when a Presbyterian pastor turned down officiating over a gay marriage ceremony at the Congregational church because she would lose her position at the church. The pastor participated in an unofficial capacity.
Crain-Polly says that her church takes a very relaxed position to the issue. When a baptism for a lesbian couple was announced, "nobody flinched," she said. She has presided over three same-sex marriage ceremonies, one of which was in the church.
Although same-sex marriages are not recognized in Michigan, Crain-Polly says the ritual is "hugely important" for gay couples and she counsels couples to go in that direction.
What often keeps churches from adopting an open and affirming policy is what they see as a conflict between homosexuality and the Bible.
The Rev. Coqui Conkey is the interim minister at the Church of Good Shepherd of the United Church of Christ in Ann Arbor, which includes clergy who are part of the LGBT community. The church adopted a welcoming statement in 1989. They plan to update their statement to include transgendered people specifically.
Conkey says that while people may see them as blatantly disregarding Scripture, this simply is not the case. She says the church has studied it thoughtfully and with the "eye of interpretion for our current generation."
Paterson says that people who oppose homosexuality generally pull from five verses in the Bible that mention same-sex acts. However, he says, none of them discuss a committed homosexual relationship and are directed at issues like pagan worship.
"[The Bible] talks more about idolatry than sexuality," Crain-Polly said.
You may reach reporter Ann Dwyer at anndwyer@annarbor.com.