neighborhoods:

Natural habit trails join Broadway and Traver neighborhoods

Posted on Wed, Apr 25, 2012 : 7:56 a.m.
courtesy of St. Aidan's
What gives you peace in a natural setting as well as a healthy activity, and — if you live close by — fossil fuel savings? A walk through the St. Aidan's/Northside Presbyterian Natural Habitat.
The trails in this five-acre natural habitat bisect the hill between Plymouth Road and Broadway, just east of Jones Drive. From the north on Plymouth Road, the woods walk extends south to Baits Drive, an entrance to the University of Michigan North Campus. For commuters walking between the northside neighborhoods and North Campus, this beautiful shortcut reduces the length of the journey while providing a natural ambiance that lowers stress and enhances spiritual and emotional health.
The two churches that own this land, St. Aidan's Episcopal and Northside Presbyterian, began serious eco-restoration on this secondary growth forest about a decade ago.
Through the removal of invasive species and a dedicated hardwood and native shrub planting program, the congregations are working to restore this stand of woods to the native wonder that would have been seen by the original Native Americans who used the trail that has become Plymouth Road. With neighborhood volunteer help, the natural habitat has been a robust contributor to Huron Arbor Cluster's harvest for the Stewardship Network's "Garlic Mustard Challenge."
Walking trails have been developed by church members and through an Eagle Scout volunteer project several years ago. They are maintained by the churches to provide physical exercise and emotional sustenance for neighbors and anyone who decides to visit. Those coming from farther away can park in the lot at 1679 Broadway and walk in this beautiful setting.
On Sunday, April 29 at 12:30 p.m., the two congregations will be hosting the fourth annual Natural Habitat Celebration for the public. Lisa Brush, executive director of the Stewardship Network, will speak at 1 p.m. on "Connecting to Protect: How to equip, mobilize, and inspire people to care for nature." Refreshments will be served.
The dedication of a portion of the natural habitat for a comparative eco-restoration project will follow. In this portion (about 1/4 of the woods), the planting of Michigan hardwood trees and native shrubs will occur without removing the invasive species understory trees that infect the area.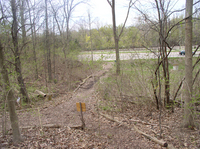 This method is advocated by Burton V. Barnes, Professor Emeritus of the School of Natural Resources and Environment (SNRE), author of Forest Ecology and co-author of Michigan Trees. In the years to come, a comparison between this method of eco-restoration and the more aggressive method of invasive species removal employed in other parts of the forest will be made.
Susan McGarry is a community contributor and a pastor at St. Aidan's tohttp://www.staidan.org/