New Life Church's Retreats Let Us Have Fun With God
Posted on Fri, Sep 24, 2010 : 6 a.m.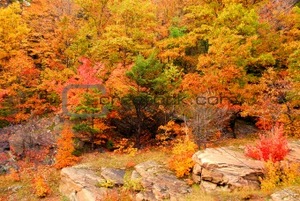 photo credited to crestock.com
There are many student-oriented churches in Ann Arbor, but the New Life Church is about to embark on one of its signature events: The Fall Retreat, which has become a staple of the season for New Lifers. New Life has themed retreats throughout the year taking place at the beginning of fall, in the dead of winter and over spring break (which the University of Michigan likes to pretend happens in late February), and they are amazing ways to reconnect with God amidst the grind of school.
While they're awesome for people who have been Christians for years, they are even more valuable to people taking their first steps in a new faith. The reason these retreats are so hyped (by people like me) is that they are equal parts intensive and fun. They're challenging and enlightening, yet somehow manage to be relaxing. For every passionate talk and sermon, there is an awesome worship (which is Christian for "singing") session, or unscripted hangout time. All at once, these retreats help old Christians recharge their spiritual batteries, and reveal, to newer ones, more of God's character than they'd ever seen before.
It's one thing to go to church, it is another to read God's words, but you don't get to know His character until you honestly interact with Him.
Now, what the heck does that mean?
Well, the ways we learn about God nowadays are as ritualized into tradition as anything in society. Church on Sunday, meal with family, time during the week for reading about God, maybe a study group to listen to people's opinions on God, rinse God, repeat. While these are all effective ways to encounter Him, they could be rewired to just as easily teach people about George Washington, the New York Yankees, or a modern history of toasters. In a sense, by treating God like He's something that exists only in a textbook — or one day a week, or when we demand big answers — we neglect the thing that is most amazing about God: He's alive.
If my first New Life retreat taught me anything, it was that God knows how to have fun. I never read about Him doing this, but this past year I've seen with my own two eyes how much God loves tossing a football around with His friends (and they don't have to be from South Bend). He eats s'mores through a sloppy, chocolate smile. He laughs. He farts. He pulls (relatively harmless) pranks. He is One, but He is as visible in groups of people loving each other as He is when reading the Bible.
If you don't believe me, or if you think it blasphemous to suggest anything aside from reading Scripture as valid interaction with God, let me ask: What would be the best way for someone to meet you? Should someone consult your Facebook page, or perhaps Google you to see what comes up? Do those rigid descriptions encapsulate everything you can be?
What about your parents? Would you say they are truly themselves while trudging through another day at work, or when Friday comes and they kick off their uncomfortable shoes? Which version of your parents would you present if you wanted others to catch a glimpse of what they're like?
Do the friends and relatives of actors go see that actor's newest movie to find out how he's been doing, or do they spend time with the real person they love? Is our president in his fullest Obama when he's swamped with debates and decisions and makeup all day, or when he's put that aside to eat, or watch a movie with the his family?
I arrived at last year's winter retreat as skeptical about church people as I've ever been. I figured people who were serious enough about religion to go on a "Christian-themed" weekend trip would be as stick-in-the-mud, bed-by-sundown boring and unwilling to get to know me as anybody, because I thought God was just a book of rules, a booming voice that spoke only when I messed up.
I urge everyone, no matter where they are spiritually, to seek God on a personal level. While He's helped reveal Himself to me through the people I've met through New Life functions, He's done even more while the two of us were alone. God has allowed me to experience His character through the love and warmth of others, but He also shows me who He is by walking me through the quiet woods. He's up on Sunday's stage telling me how to live, but He's also behind me in the pews, whispering funny secrets to me that no one else can hear.
The New Life Church's retreats are great ways to meet God, and to catch up with Him while He's not wearing work clothes.
I saw God crack a smile for the first time last winter and it changed my life in ways I'd need more than one article to explain. I'm heading into this coming retreat a more seasoned Christian, one who isn't as uneasy about the trip, or about "spending time with God" as I would've been a year ago. What was once anxiety has turned to excitement at the prospect of getting to laugh, run and sing with God — my new, old friend — again.
Ben Verdi is a man with a Bible and a laptop and a nasty curveball. He can be reached at jetboiz@aol.com.