Posted on
Thu, Mar 31, 2011 : 11:14 a.m.
Japan disaster: What do the Japanese really need?
By Wayne Baker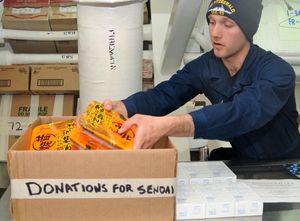 Photo courtesy of William Pittman
Editor's note: This post is part of a series by Dr. Baker on Our Values about core American values. This week Dr. Baker is discussing the tragedy in Japan, and the many questions it evokes.
A bevy of top recording artists has produced a charity compilation album with all proceeds going to the Japanese Red Cross Society. "Songs for Japan" includes 38 tracks, featuring artists from several generations of music. To name just a few — Lady Gaga, Justin Bieber, Beyonce, Madonna, U2, Dylan, Shakira, Springsteen, R.E.M, Justin Timberlake, Red Hot Chili Peppers — even John Lennon in a remastered 'Imagine.'
Do you think "Songs for Japan" will help? Do efforts like these make a positive difference?
Americans are split on the answer, according to a Harris poll from 2008. Just under half (45 percent) say celebrities can make a real difference in the issues they promote, but 51 percent disagree.
At least part of the judgment on "Songs for Japan" will depend on how much money is raised and donated to the Japanese Red Cross. According to Billboard, 25,000 units were sold at $9.99 on itunes on its release date of March 25th. Industry experts say the album could make the top five in this week's Billboard 200.
Is there a downside to "Songs for Japan"? Some say that efforts like these can actually be a distraction from the real issues. Music can't change the world. Japan has urgent needs.
But the long-term real issues have to do with the wisdom of nuclear energy. Singing won't help that. But what about the money raised?
Donating money to support disaster relief efforts always seems like a good idea. Money is fungible. People on the ground can use money to buy whatever they really need. You don't have to figure out what their needs might be.
Money is fast—an instantaneous wire transfer versus shipping. And, it's easy to donate money. Sometimes it's buying a T-shirt (as my son did) or buying 'Songs for Japan' from iTunes or specifying a dollar amount and giving your credit card number to a relief organization.
American citizens, big celebrities and major corporations have donated millions, earmarked to support relief efforts in Japan. It's an expression of the humanitarian values Americans have.
But what if money is not what Japan needs or wants?
Japan has turned down 87 of 102 offers of aid from different countries, NPR reports. Several commentators have pointed out that Japan is a rich country and doesn't need the money.
Giving unrestricted funds to a relief agency may actually help more.
"Earmarking funds is a really good way of hobbling relief organizations and ensuring that they have to leave large piles of money unspent in one place while facing urgent needs in other places," writes Felix Salmon.
"We are all better at responding to human suffering caused by dramatic, telegenic emergencies than to the much greater loss of life from ongoing hunger, disease and conflict."
Often, he says, "the smaller and less visible emergencies where NGOs can do the most good are left unfunded."
But this conflicts with the desire to do something for a specific catastrophe. If Japan doesn't need cash, what do we do with the need to reach out and help?
Dr. Wayne E. Baker is a sociologist on the faculty of the University of Michigan Ross School of Business. Baker blogs daily at Our Values and can be reached at ourvaluesproject@gmail.com.