Posted on
Tue, Mar 22, 2011 : 11:50 a.m.
Our Values: Libya and 'Just War' theory - is this intervention moral?
By Wayne Baker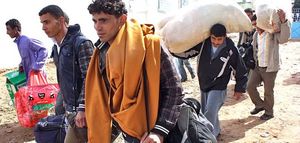 Photo courtesy of Wikimedia Commons
Editor's note: This post is part of a series by Dr. Baker on Our Values about core American values. This week Dr. Baker is discussing the morality of American involvement in the military intervention in Libya.
The U.S. is now involved in a third conflict in the Middle East, joining France, Italy, Canada, Great Britain, Spain, Belgium, and Denmark in military action to establish a no-fly zone in Libya. An Arab nation—Qatar—will soon join the military effort.
Did we have to step in? The American public did not favor the intervention.
Almost two thirds (63 percent) said the United States did not have a responsibility to act in Libya, according to a poll taken by the Pew Research Center a week before the United Nations resolution authorizing military action. Opposition was widespread.
The majority of men and women, young and old, Republicans and Democrats opposed intervention. Opposition to bombing Libya's air defenses was especially strong (77 percent opposed), but opinion was divided on establishing a no-fly zone. Few Americans (only 13 percent) support sending in ground troops.
Of course, public opinion doesn't dictate foreign policy. But widespread opposition to the Libya intervention does indicate that Americans will have little patience with anything but a quick in-and-out intervention.
Why did so many Americans oppose intervention? The main reason is over-commitment — the U.S. military is already spread too thin to warrant a third front.
This is a practical reason, not a moral one. But the main reason for intervention (noting that most oppose it) was ideological: that it's important to show that America backs democracy. And, the poll found, those who do say we have a responsibility to act in Libya are likely to cite moral obligation as the reason.
What makes for a "just" intervention?
"Just War" criteria were discussed in a recent interview on PBS with ethicist Shaun Casey of the Wesley Theological Seminary in Washington, D.C. Here are a few of the points Casey raised:
* Is there a "just cause"—a moral cause—for the intervention? A just cause would include war crimes, genocide or other grave and serious injustices on a large scale.
* Who should authorize an intervention? Casey said that the UN Security Council would be the best kind of authority. Days after his remarks, the UN voted to authorize military intervention.
* Is there a reasonable chance of success? This involves the effectiveness of the actions to be taken and the capacity to undertake them. Critics of the no-fly zone that has been established say that it won't stop Gaddafi's efforts.
* Who should take military action? We now have the answer to this question — a coalition of forces.
* Casey also points out that not taking action when there is a just cause and we have the ability to act means "moral culpability as a result."
The Catechism of the Catholic Church imposes four strict conditions for a Just War. Two of these are covered in the excerpts of Casey's comments that are available online. Two other conditions bear consideration:
* Did we exhaust all other means of ending the grave and serious injustices?
* And, is the cure worse than the affliction?
Today, please tell us in your comments:
1.) Do you support or oppose the Libya intervention?
2.) Is this a "just" intervention?
3.) What do you think of America's involvement in it?
Dr. Wayne E. Baker is a sociologist on the faculty of the University of Michigan Ross School of Business. Baker blogs daily at Our Values and can be reached at ourvaluesproject@gmail.com.