Posted on
Thu, May 13, 2010 : 1:34 p.m.
Public prayer - when is it okay? You be the judge on this one
By Wayne Baker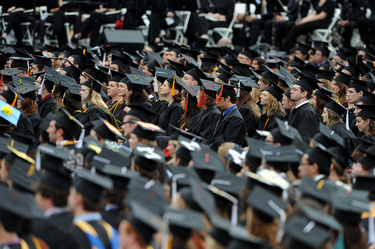 Lon Horwedel | AnnArbor.com
Editor's note: Dr. Wayne E. Baker is a sociologist at the University of Michigan Ross School of Business researching the core beliefs that shape American culture. This is the third in this week's series on public prayer.
The nation's top judges already have ruled on this, but before I tell you how they ruled, I want you to be the judge.
The separation of church and state seems like a clear line. But the U.S. Supreme Court has been the champion of waffling when it comes to the interpretation of this principle. Its rulings over the years in this area have been called inconsistent, incoherent, and a disarray. Not exactly what we hope for in the highest court of the land.
So, try your hand at this one: How about this graduation invocation at a public school? Does it cross the church-state line?
"God of the Free, Hope of the Brave:
"For the legacy of America where diversity is celebrated and the rights of minorities are protected, we thank You. May these young men and women grow up to enrich it.
"For the liberty of America, we thank You. May these new graduates grow up to guard it.
"The political process of America in which all its citizens may participate, for its court system where all can seek justice, we thank You. May those we honor here this morning always turn to it in trust.
"The destiny of America, we thank You. May the graduates of Nathan Bishop Middle School so live that they might help to share it.
"May our aspirations for our country and for these young people, who are our hope for the future, be richly fulfilled. Amen."
This invocation was delivered by Rabbi Leslie Gutterman a number of years ago at a public junior high school in Rhode Island. When the father of one of the students learned that the rabbi would be delivering an invocation and benediction, he asked for an injunction. The local federal court demurred, saying it didn't have enough time to assess the situation.
Learn what the U.S. Supreme court decided and join the conversation at Our Values.org.