Posted on
Mon, Dec 7, 2009 : 9:55 a.m.
Religious leaders discuss interfaith following showing of 'Fremont, U.S.A.'
By Stephanie Fenton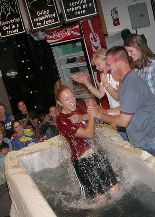 Photo courtesy of Wiki Commons
Rabbis, parishioners, volunteers and interfaith workers recently participated in an active discussion following the Ann Arbor Public Library's screening of "
Fremont, U.S.A.
," a film created as part of
The Pluralism Project
at Harvard University. "Fremont, U.S.A." features a personalized look at America's changing religious and cultural landscape amid rising immigration rates and, in particular, this film focuses on Fremont, Calif., a city whose residents hail from more than 100 countries and live together respectfully.
According to co-producer Elinor Pierce, Ann Arbor and Fremont share important interfaith interests.
"Fremont, Calif., and Ann Arbor, Mich., are different in many ways, but given the large audience that came out for the screening at the public library, and the constructive interfaith discussion the following day, it is clear to me that both cities share a dedication to positive interfaith relations," said Pierce, who is also a research director for The Pluralism Project. "We've studied interfaith relationships for years, and coming to a place like Ann Arbor serves to inspire and fuel our ongoing work."
In 1991, The Pluralism Project at Harvard University began studying America's evolutionary religious landscape. Through documentaries, news headline tracking, studies and more, The Pluralism Project has expanded to study many multi-religious societies. "Fremont, U.S.A." has been shown at schools, civic organizations and public venues across the country to encourage interfaith relations. In Ann Arbor, the message of interfaith importance has been known for years; nevertheless, local leaders and residents strive for a goal beyond mere acceptance.
"The Interfaith Round Table, which is doing this bridge-building work all the time, knows that there's a lot of religious tolerance in Ann Arbor, but for deeper diversity we need to move far beyond just tolerating our religious differences to appreciating and affirming them," said George Lambrides, executive director of the Interfaith Round Table of Washtenaw County. "'Fremont, USA' helped us take a closer look at the risks of being satisfied with the status quo and the benefits of reaching across religious divides to help turn strangers into friends."
Rabbi Kim Blumenthal, of the Beth Israel Congregation, also appreciated Fremont's exemplary efforts.
"It was enlightening to see the efforts of the people of Fremont who worked to create, through education and dialog, a respectful environment," she said.
In Fremont, religious diversity is evident in the presence of mosques, Buddhist Temples and Sikh and Hindu houses of worship, many of which are present in Ann Arbor too. Yet for Ann Arbor to reach the interfaith goals of many of its leaders and residents, continuous action is needed.
"And now the question is: How do we continue this conversation?" wrote Grace Kotre, of the Interfaith Council for Peace & Justice, in an email to the discussion's participants. "Some suggestions for next steps that came out of our meeting include:
1. Hosting an ongoing discussion series among faith leaders, insuring that all (or at least most) communities are represented;
2. Talking with Ann Arbor's Human Rights Commission to see if they're willing to play a role like the Fremont Human Relations Committee played;
3. Continuing doing all the work we already do to build interfaith relations (through Interfaith Roundtable, ICPJ, your congregations, and the university) and trying to keep each other informed."
Besides making the effort to take action, local leaders and residents have identified the unique needs of the city in regards to interfaith work. While "Fremont, U.S.A." provided additional inspiration for interfaith work, these film viewers knew that the solutions that worked in Fremont wouldn't necessarily work in Ann Arbor.
"Fremont, Calif., appeared to be a high-income community and there didn't appear to be much involvement by the African American and Latino religious community," said Jim Mogensen, a parishioner at St. Andrew's Episcopal Church, committee member of the Interfaith Round Table, active participant in the Interfaith Council for Peace & Justice and past president of Religious Action for Affordable Housing. "Here in Washtenaw County, we also need to work on the income and theological barriers to interfaith dialogue."
Other viewers noticed that "Fremont, U.S.A." left out some cultural groups, too - groups that are better represented in Ann Arbor than in the Pluralism Project film.
"I was so disappointed to see in the film that there was no leadership representation of blacks, those of Spanish speaking decent or Native Americans," said Pastor Denese Brown of the Faith Assembly Church . "I was told that blacks only represented 4 percent of the Fremont population. Well, 4 percent of 200,000 is pretty significant number of people, about 8,000. But, it really doesn't matter to me if it were 500 people or 50,000, given our ongoing history of being disenfranchised, looked over and marginalized, it behooves us to make sure that people of color are included, whenever there's an effort to help people better understand each other and live in relative harmony."
Most importantly, local leaders discussed what specific actions would help Ann Arbor continue to move forward in interfaith relations.
"A sense of community and communication presented in the film appeared to be an effective way to begin to address the fear and perceptions of those who are 'different,'" said Carol Blotter of the Deep Spring Center. "The discussion we had after the presentation identified ways the existing organizations might expand to help."
Stephanie Fenton covers faith for AnnArbor.com. Stephanie can be reached at Fenton.Stephanie@gmail.com.