Posted on
Mon, Feb 28, 2011 : 11 a.m.
Sacred Spaces: Mother Teresa on seeking out the lonely in our midst
By Moira Cullen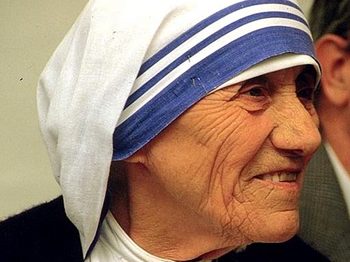 Photo by Turelio on Wikimedia-Commons-CC-BY-SA
Mother Teresa was recognized by countless people around the world for her commitment to serving the poorest of the poor in Calcutta and other parts of the world. In recognition of her humanitarian work, she was awarded the Nobel Peace Prize in 1979.
And yet, in her own words she recognized that loneliness and the feeling of being unwanted, so prevalent in the Western world, was a far worse poverty than the material deprivation of Calcutta.
Mother Teresa characterized loneliness as the "leprosy of the West" (Commonweal, Dec. 19, 1997). If there was anyone who understood leprosy, it would have been her. She cared for the unwanted lepers of India, and she saw the connection between these lepers, shunned by all levels of society, and those who felt unwanted and alone in the prosperous West.
Mother Teresa urged that we in the West don't need to travel to Calcutta, but rather we need to find the "poor" right in our own families and neighborhoods. It is a call to look around us, to seek out those who are hurting, and to do what we can to love them.
If you have children, like myself, these words can help shape the way we look at our children. We can either fill our children's lives with moments of being loved and wanted more than anything else in the world, or we can make them feel as if they have inconvenienced us with their lives and needs. Truly, parents are the most influential people in their children's lives, and we can do so much to give them a sense of love and security which they will bring with them into adulthood.
For me, I feel Mother Teresa's words are a challenge to step out of myself and to look for the little ways I can love the people around me. There are so many people that will never feel the touch of love unless we love them.
What are some ways that you can begin today to bring that love to the lonely in your midst?
Moira Cullen works with husband John Cullen in their family business, Celtic Gardens. She home-schools her four very energetic children, and writes in her spare minutes. To learn more visit: www.celticgardenimports.com