Posted on
Mon, Mar 28, 2011 : 6 a.m.
Sacred Spaces: Beauty can create common ground and serve as an antidote to the ugliness in the world
By Moira Cullen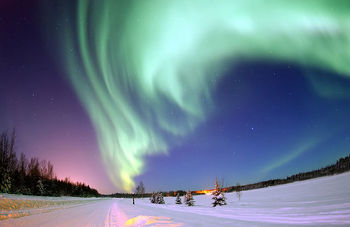 The Aurora Borealis
Photo by Senior Airman Joshua Strang United States Air Force Photo Wikimedia Commons
Dostoevsky said, "Man can live without science, he can live without bread, but without beauty he could no longer live."
The world needs beauty. Our souls thrive on beauty, but quite often we are forced to face the ugly, the profane and the gruesome in life.
We watch and read of the worst acts of violence and evil in the world, and our hearts grow a little hardened, a little calloused, until we find ourselves losing hope. But there is an antidote for the ills of which I speak, and it comes in the form of beauty.
Some people have abandoned beauty, as if it was only for the superficial and shallow of the world. Perhaps this is a reaction to the billion-dollar-a-year cosmetic industry which exploits beauty for its own gain.
But that air-brushed version of beauty is not anything like real beauty — it is but a shadow of the real thing. The beauty of which I speak goes far beyond mere appearance.
Beauty, whether encountered in nature, art, or a simple prayer, has the ability to lift us up out of ourselves, pulling us out of our complacency, in order to respond to the truth and goodness of the other. Beauty should be about an encounter, not just with a something, but ultimately a Someone.
Augustine of Hippo, in his famous Confessions, spoke so arrestingly of his encounter with God that I don't think I will ever look on beauty in the same way. He was a man who pursued all that the world had to offer, had won women and gained acclaim for his academic pursuits, and yet he found himself empty. And then it happened — he fell in love.
"Late have I loved you, O Beauty ever ancient, ever new, late have I loved you! In my unloveliness I plunged into the lovely things which you created. You were with me, but I was not with you. You called, you shouted, and you broke through my deafness. You flashed, you shone, and you dispelled my blindness. You breathed your fragrance on me; I drew in breath and now I pant for you. I have tasted you, now I hunger and thirst for more. You touched me, and I burned for your peace." — The Confessions
Augustine believed that God was the source of all beauty, and man's ultimate destiny was to enjoy the infinite Beauty of God for eternity (1 Ioannis, 4:5).
There is much agreement on the importance of beauty in the various world religions. For example, Mohammad affirmed "God is Beauty and delights in the beautiful." Mahatma Ghandi said, "Beauty can be found in Truth and through Truth." Paul VI urged that "The world needs beauty in order not to sink into despair."
Perhaps beauty can serve as the common ground on which peoples of all faiths and pursuits can stand and be united.
But what will happen if people of faith and intellect abandon beauty? According to modern philosopher Hans Urs von Balthasar,"We can be sure that whoever sneers at (Beauty's) name as if she were the ornament of a bourgeois past — whether he admits it or not — can no longer pray and soon will no longer be able to love."
Is there truth in these words? Is the loss of beauty in modern society a precursor to the loss of faith and love? Does the despair we see in the world stem from a need to encounter true Beauty?
These are questions worth the asking.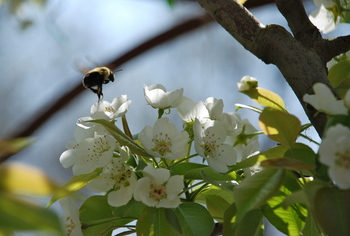 Beauty, whether encountered in nature, art, or a simple prayer, has the ability to lift us up out of ourselves.
Photo by John Cullen Celtic Gardens
Moira Cullen works with husband, John Cullen, in their family business, Celtic Gardens. She homeschools four very energetic children, and writes in her spare minutes. To learn more visit: www.celticgardenimports.com.