Posted on
Thu, Mar 18, 2010 : 6 a.m.
Second Baptist Church of Ann Arbor, the city's largest African American congregation, has a long history
By Janet Miller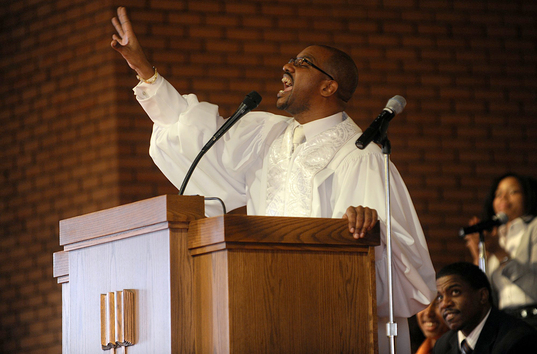 Melanie Maxwell | AnnArbor.com
Editor's note: This is another in an occasional series of articles on congregations in the Ann Arbor area.
The roots of Second Baptist Church of Ann Arbor run almost as deep as the city itself.
What is today the city's largest African-American church, with more than 500 members, began with just a handful of residents who met in a small, white, frame house at Elizabeth and High streets.
While records show the congregation was established in 1865, Second Baptist is likely older than that, said Audrey Lucas, a long-time church member and church clerk. It may have its start as part of the First Union Society of Ann Arbor as early as 1859, just 35 years after Ann Arbor was founded and just 22 years after the University of Michigan moved to the city.

What began as a single black church in Ann Arbor sometime in the 1850s, splintered into two churches, the Methodists and the Baptists, Lucas said. "The Methodist's and our history dovetail." Second Baptist use their establishment date as 1865.
African Methodist Episcopal Churches are structured so that they answer to a bishop while the Baptist Church have more local control, said the Rev. Mark J. Lyons, Second Baptist head pastor for eight years.
Melanie Maxwell | AnnArbor.com
"We haven't been able to glean any specific reasons for the split, but it was more about structure and not so much about beliefs," Lyons said.
Today, they both remain strong African American churches in Ann Arbor, but have been joined by at least four other predominately black churches.
While its earliest years have been made unsure by time, church history since 1929 is clear: In more than 80 years, Second Baptist has had only three head pastors: Rev. C.W. Carpenter served from 1929 to 1965, Rev. Emmett L. Green served for the next 34 years and Rev. Lyons has been head pastor since 2002.
All three men brought a distinct personality to the church, Lucas said.
"I grew up under Rev. Carpenter and he was a stern task-master," she said. "I learned to speak and I learned manners under him. You knew he loved you, but he was very frank."
Rev. Green, who baptized her children, had his pulse on the needs of the church community and established a day care center for working parents. "Rev. Green had a strong personality, but was softer than Rev. Carpenter," Lucas said.
And Rev. Lyons has come with a mission of his own, reaching out to the church community with a number of new ministries, from the marriage enrichment ministry to a campus ministry for U-M students to what's being called the 48103 "redemptive territory" ministry, where the 48103 zip code area is being targeted for community service.
He's building an ascension to manhood and an ascension to womanhood mentorship ministry and an enrichment program that helps youth within and outside of the church with math skills.
"There's an achievement gap (between white and African American students) and we feel we need to address that concern," Lyons said.
There's also a human service ministry where those in need can receive groceries from the church once a week. 
Still, ask Lyons what niche his church occupies and he answers there is none.
"We don't have a niche. We're not looking for a niche," he said. "We want to be a witness to Jesus Christ. We're not looking to be unique."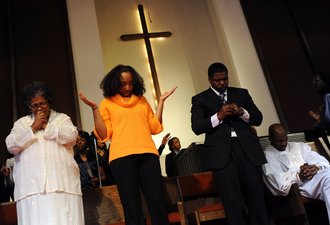 Melanie Maxwell | AnnArbor.com
While the church has made several moves, it's been a constant presence in the community with many long-time members. Lucas joined the church when her family moved to Ann Arbor in 1941.
For years Second Baptist stood at 216 Beaks Street in the form of two different buildings. The first church was built, repaired and renovated but eventually razed to make way for a second church building.
But it wasn't an aging building that finally forced Second Baptist to move to its present location behind Mack Open School on the city's near northwest side. It was the headaches of parking near downtown.
"As the congregation grew, parking became a problem," Lucas said. "People would come to church, not find parking and go back home."
The move to the new church ended the parking headaches and created enough space for a growing congregation. Fifteen years after the move, the congregation had paid off the mortgage, allowing it to move into multiple ministries.

But now the congregation needs more space, said Rev. Lyons. Second Baptist is in the process of raising money for an educational wing that would house the expanding ministries. They hope to break ground this spring with construction lasting about 18 months.