Posted on
Thu, Apr 14, 2011 : 10:59 a.m.
Some budget cuts kill. What's sacred to you?
By Wayne Baker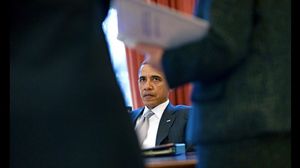 Photo courtesy of White House media resources.
Editor's note: This post is part of a series by Dr. Baker on Our Values about core American values. This week Dr. Baker is discussing the hot-button topic of federal budget cuts.

"Budgets are moral documents. They're about choices that we make, what are our core values, what should we care about," said Democratic Senator Kirsten Gillibrand Monday at Columbia University. Gillibrand won the seat vacated by Hillary Clinton when she became Secretary of State. Gillibrand was the keynote speaker for the 14th annual David N. Dinkins Leadership and Public Policy Forum.
Gillibrand isn't the first person to called budgets moral documents, just the most recent. But it's tru: Budgets are statement about our core values and priorities. The budget choices made in Washington or any state capital alter our fates. The favored get a break. They see new opportunities. Things get easier. Others see their quality of life diminish, along with their children's futures. And for some, budget cuts can be deadly.
Cutting spending for Pap smears or mammograms, Gillibrand points out, are "not the right choices for our future." These cuts to women's health care would have deleterious effects, especially for poor women.
Cuts to global healthcare for malaria prevention and treatment, as outlined in Rep. Paul Ryan's (R-WI) budget proposal, could lead to 27,000 to 30,000 child deaths, according to USAID estimates cited by Michael Gerson in the Washington Post — in a story headlined, "When Cuts Lead to Coffins."
About 24,000 more children would die due to lack of immunizations, and another 16,000 would die because skilled attendants weren't available at birth.
Yesterday, President Obama offered an alternative. Obama's plan to reduce the deficit put everything back on the table — including cuts to defense spending and raising taxes. Republican plans leave these items off the table, as we discussed Tuesday.
The president's plan, which he outlined in a speech at George Washington University, promises to reduce the deficit by $4 trillion over the next 12 years. Every $3 in cuts would be matched with a $1 increase in taxes.
Change to Medicare and Medicaid would yield cost savings, but benefits would be largely preserved. The Department of Defense would see budget cuts.
The wealthiest Americans would provide most of the tax revenues, mostly by ending the Bush-era tax cuts for the rich — and thus fulfilling one of Obama's campaign promises. The tax code would also be simplified — no doubt to the chagrin of professional tax preparers.
Obama emphasized fairness in his speech, arguing: It's fair that the rich should pay more. It's fair that we continue to take care of the poor, the sick, and the elderly. And it's fair that we slow the widening gap between the haves and the have-nots. Here's the link to the White House's fact sheet on the president's proposal, in case you want to read the details.
The debates about budgets are debates about our values. Budgets are moral documents. As readers of OurValues.org know, I've conducted a series of surveys of American values. The evidence confirms that justice and fairness are core American values.
Do you think Obama's plan is just and fair?
Or, do you prefer the Republican options?
Dr. Wayne E. Baker is a sociologist on the faculty of the University of Michigan Ross School of Business. Baker blogs daily at Our Values and can be reached at ourvaluesproject@gmail.com or on Facebook.