St. Mary Student Parish celebrates Feast Day through community service
Posted on Mon, Feb 7, 2011 : 9:15 a.m.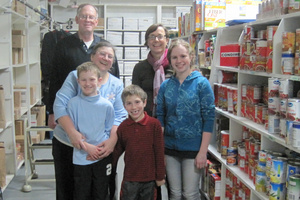 Photo by Lisa Hirsch

Many Catholic churches are named after a saint, and many of those churches celebrate the feast day of their namesake with a celebration of Mass. But St. Mary Student Parish has developed a unique and inspiring way to celebrate the feast day of St. Mary — Mass followed by community service.

Every Catholic Mass ends with the words "The Mass is ended. Go in peace to love and serve the Lord," yet it is not often that the participants at a Mass immediately go out into the world to serve the Lord so concretely. Each December for the last four years, St. Mary's parishioners have gathered for Mass to celebrate their patroness and then have gone out to various sites throughout the Ann Arbor community to serve those in need.

This year, more than 100 parishioners served at eight different agencies doing a variety of tasks including cleaning and painting at St. Vincent de Paul, organizing food, clothing and toy donations at the Salvation Army and serving meals at the Delonis Center.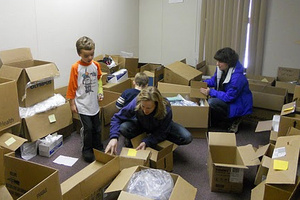 Photo by Luke Sullivan

The volunteers ranged in age from preschool children to retirees and all enjoyed contributing in their own way. At United to Heal, family and college student parishioners helped sort and pack medical supplies while the youngest members made holiday cards for children in the areas of Africa receiving the supplies. Families who went to Heartland Health Care Center helped with craft projects and interacted with the elderly residents. Volunteers at IHN- Alpha House helped with maintenance projects, while students at Arbor Vitae helped assemble layettes for new mothers.
St. Mary Social Justice Ministry coordinates the event under the leadership of Fr. Dan Reim, S.J. who says that a day of service is a perfect way to honor St. Mary and to serve Jesus as Catholic Christians. In his words, Mary "modeled a life of service" and "our faith impels us to serve one another, not as a bonus, but as a constitutive part of our discipleship in Christ." He also sees the annual Feast Day of Service as a way to introduce parishioners to the needs of those in our community and "in some small way, bring care and compassion to those we meet."
The impact of the Day of Service on the agencies served was obviously positive and the impact on parishioners was also significant. One teen participant stated, "It's the whole community coming together and then we're really living our faith by serving others."
Liz Vasher, a long time parishioner, has participated in the Feast Day with her family at the Salvation Army site each year. She especially liked working in the pantry this year with some children whose "eagerness to help was ever present in both the young boys' eyes."
Another parishioner said she looks forward to this day because even though she does service work throughout the year, this day "epitomizes what we stand for as a community, who we are as Christians". She is already looking ahead with anticipation and hope to next year's day of celebration and service at St. Mary Student Parish.