Posted on
Tue, Feb 8, 2011 : 5:11 p.m.
Stephen Prothero on religious literacy: What every American needs to know (and doesn't)
By Pam Stout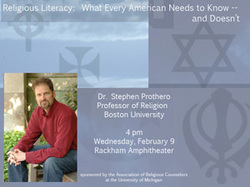 Stephen Prothero
, professor of religion at Boston University, author and commentator on the importance of religious literacy in cultural and political matters, will speak about "Religious Literacy: What Every American Needs to Know — and Doesn't" on Wednesday, Feb. 9 at 4 p.m. in Rackham Amphitheater at the University of Michigan.
The talk is free to the public and is sponsored by the Association of Religious Counselors at the University of Michigan, a multi-faith professional organization of counselors for student religious groups.
Prothero, author of multiple books including "God is not One: the Eight Rival Religions of the World and why their Differences Matter" and "Religious Literacy: What Every American Needs to Know—and Doesn't" offers an unusual take on interfaith religious understanding, according to Rolf Bouma, director of the Center for Faith & Scholarship, who was a student of Prothero's and instrumental in bringing him to the University of Michigan.
While there is a growing tendency in interfaith circles to minimize differences, Prothero argues that understanding "differences not only between but also within religious traditions is crucial," explained Bouma. For example, it is important to know the differences between different types of Islam (Sunni and Shia), and even different branches of Christianity, to understand current events, Bouma said.
Prothero argues that religious literacy is the "fourth R" that has been neglected in American education and advocates for increased education about religious traditions for a well-informed citizenry.
Watch a YouTube video of one of Prothero's recent lectures below: