Posted on
Sun, Dec 19, 2010 : 8 a.m.
The Christmas story, retold through social media
By Pam Stout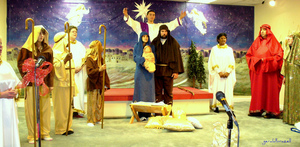 Photo by Flickr user geraldbrazell
The weeks before Christmas bring many different kinds of re-enactments and retellings of the story of Jesus' birth, from books and movies to bathrobe-clad children, and occasionally, live animals whose
actions may be unpredictable
.

CNN's Tech blog shows a popular new video on YouTube that brings the old Christmas pageant into the 21st century. Designed by Excentric, a Portugal-based digital marketing company, "The Digital Story of the Nativity" tells the familiar biblical story through Google searches, e-mails, tweets, Facebook "likes" and Foursquare "check-ins."
Read the full story about making the digital nativity on CNN Tech and view the YouTube video below:
For the less techie version, you can watch a live nativity outside First Congregational Church of Ann Arbor at 608 E. William St. from 4-8 p.m. on Dec. 24.
What interesting re-enactments of the nativity story have you seen?
Pam Stout coordinates Faith and Home & Garden coverage for AnnArbor.com. She may be reached at pamstout@annarbor.com.