Posted on
Wed, Jul 20, 2011 : 2:30 p.m.
The word 'mission' is scary to some, but it's really just about meeting people's needs
By Darcy Crain-Polly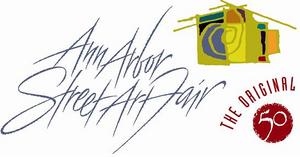 artfair.org
Art fair. That one week in the summer when half the locals head out of town, when its guaranteed to be the hottest week of the season, and when downtown businesses brace themselves for the madness while finding alternate routes to get to work.
Though you probably would not think of a church as one of these businesses, we are not strangers to the madness of art fair. My church sits at the corner of State and William streets, so you can be assured we keep ourselves busy.
For the past decade or so, we have sold bottled water as a fundraiser for mission trips and in more fruitful years, we dress our youth as bananas and pizza slices and dance. (What the connection is to water I don't know, but it does tend to boost sales!)
What I've learned over the years is how scary the word "mission" is to folks walking by.
They see a church selling stuff with a banner of the word "mission" and assume that the trip has the purpose of conversion. The notion is not inaccurate; for centuries Christians have been going on "missions" to third world countries with the goal of converting folks to Christianity and propagating the faith.
However, in 2011, for mainstream churches, I believe it's time to finally take "mission" out of its quotations. The mission of our trips is to use our labors to better the lives of the population of folks we are serving. Whether that is locally in Muskegon, or an international venture, the mission stays the same; to serve.
Serving implies that you meet the people's needs, not your own. As you do that, you realize that the people may already know about God; in fact, their faith may be more intact than your own. Their greatest need is not to hear a verbal articulation of salvation or what they need to believe.
What they really need is a working sink or a roof over their head or access to healthcare. The mission trips we take seek to fulfill those needs first. Their needs become our mission.
If the forecasts come true this week, Art Fair may be so hot that you want water or popsicles regardless of the wording or cause. But if you've been wary of the word mission and avoided these fundraisers with caution, don't be afraid to reclaim the word for all the good that it does. You will not be alone.
Darcy Crain-Polly is the associate minister at the First Congregational Church of Ann Arbor. She can be reached directly via email.