By Alaine Reichle
Youth art show to open on Sunday at St. Luke Lutheran in Ann Arbor
Posted on Fri, Jun 11, 2010 : 12:42 p.m.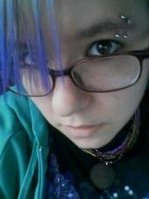 There was one room in my high school that felt safe to me. This room was where some of the hardest things I had been through took place. It was a refuge and on several occasions it saved my life.

It wasn't just the room though; it was the teacher the room belonged to as well. I feel I can say I would not be alive today if it weren't for the art room that lies within the halls of Valley Lutheran High School and my art teacher Mr. Kaelberer.

As a senior in college, I had to do a senior project and it was obvious to me that it had to have something to do with art. I plan on going back to college for photography, and before God called me into ministry I was planning on going to the art institute and learning how to do graphic design or design video games. Art is one of the most important things to me, and it's done a lot in my life.

I struggled with how to connect art and family life. I worked with one of the art professors at Concordia and we came up with a plan. I'm proud to say that on June 13, St. Luke Lutheran Church in Ann Arbor will host a the opening of the Youth Art Show at 1 p.m. I'm going to give a short presentation and then the gallery will be open until June 27.

The purpose of the art show is to show how prevalent the feelings of abandonment, loneliness and isolation can be in the youth of today and to see how willing adults are to address these problems if they are presented. All of the pieces in the gallery will deal with these issues and during the presentation I'll explain the ideas and reasons behind the gallery.

I dealt with these feelings constantly when I was in grade school and high school and I think it's something that gets overlooked in kids. They feel like they're doing it alone. The culture of youth today was something I studied in many of my classes in college, and this was the biggest recurring issue, the sense of abandonment throughout their lives. It's something I wanted to study more and I wanted to give my kids here at St. Luke a chance to share with people who love them. To let out some of that emotion and get support for it.

The gallery opens on Sunday and I'm very nervous about it. I've had a lot of positive response and people love the idea. I'm just worried they won't follow through. It's my senior project, and it's very close to my heart. I hope it goes over as well as it can and this makes a difference.

I want the kids to know they're not alone, and the adults to be able to show support and continued love for the kids here. I really want it to change something, to make a difference. At least to someone.