Posted on
Sun, Nov 27, 2011 : 6 a.m.
A meditation on giving and receiving
By Susan Scott Morales, MSW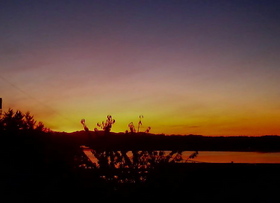 Photo by Diane McLean

Whether the sun is rising or setting, it paints the sky in breath-taking hues. Likewise, when we give or receive a gift our heart radiates warmth.
Can you think of a time you gave a gift that you really put your heart into? When the person received it, did you feel a swelling in your chest, your happiness expand? And what about when you received a gift that was just perfect for you, at just the right time? Didn't you feel your heart get bigger?
Today's meditation is very simple. In your meditation posture, take a deep breath and exhale slowly. Allow your mind to float freely over times you've given a gift you're excited about giving. Focus on one of those times and notice how your body feels. Rest in that feeling. Now remember when you've received a gift that surprised and delighted you.
Notice the sensation in your heart. Focus your attention there.
Perhaps, like me, you'll experience the feeling of giving and the feeling of receiving as the same. Isn't it true that when we give, we receive? And, I believe, when we receive, we are also giving the giver something. Don't you feel you've received a gift when someone appreciates you?
Continue to focus on the sensations in your heart and in your body that come from giving and receiving. If you start to question yourself or your mind wanders, bring your attention back to your breath or the feelings in your heart. Rest in the sweet feeling your heart is giving you.
For further reading on this topic, you may enjoy my article "A Meditation on Gratitude," published last week in Huffington Post.
Susan Scott Morales is a meditation teacher, psychotherapist, published poet, novelist, and community contributor to AnnArbor.com and Huffington Post Healthy Living, as well as a blogger on redroom.com. Tweet her @susanscottmoral, reach her at susanmmorales@yahoo.com or visit her website: susanscottmorales.com or fan page: https://www.facebook.com/susanscottmorales.writer.