Posted on
Wed, Mar 31, 2010 : 9:15 a.m.
A select few 'supertaskers' can use cell phones and drive safely (in simulation), study finds
By Tina Reed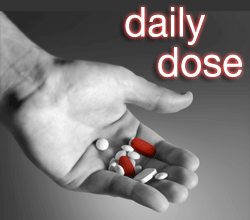 Here's a look at some of the top health news being talked about around the U.S. and the world today:
• Are you a supertasker? In a simulator, researchers found the vast majority of drivers just can't talk on the cell phone, drive and think at the time time, the Palm Beach Post reported today. But less than 3 percent of the population are so-called "supertaskers." They have the special skill of driving safely - at least in the simulator - while talking on the cell phone and dealing with other problems with little difficulty. Most, it appears, should simply hang up and drive.
• Some medical experts are raising concerns about health risks of using statins as a preventative measure for people who don't have cholesterol problems, the New York Times reported. There is growing concern the medications may not be as safe for those who don't already have cholesterol problems as it is for those already at risk of heart attack and stroke, it was reported.
• Is the raw milk issue similar to the medical marijuana issue? Well, the link isn't obvious, but one filmmaker is drawing that conclusion, the Los Angeles Times said in a blog today. Offering up a good roundup of links from around the country, the blog highlights the struggle between government warnings against drinking the milk product hailed by some for its natural health properties, even as regulated foods are regularly reported with problems like contamination.
• U.S. Health and Human Secretary Kathleen Sebelius said insurance companies would not be able to use so-called loopholes in the new health care law. Her comments came after media reports indicated companies were planning on only covering pre-existing conditions "if a child already has health coverage when the guaranteed coverage begins in September," ABC News reported.
• A dog can do the heart good, according to a report in BusinessWeek. In a program called Cardiac Friends, some heart patients appeared to be more motivated to get active and stay active with the help of walking dogs from the local shelter.
Tina Reed covers health and the environment for AnnArbor.com. You can reach her at tinareed@annarbor.com, call her at 734-623-2535 or find her on Twitter @TreedinAA.