Posted on
Sun, Aug 28, 2011 : 6 a.m.
A short meditation can go a long way in reducing stress
By Susan Scott Morales, MSW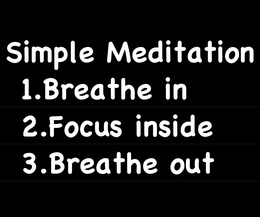 Susan Scott Morales | Contributor

One of the questions I hear often in my meditation classes is, "How long do I have to meditate?"
In our culture of do, do, do and produce, produce, produce, we look for formulas, rules and guidelines. Everyday we're plummeted with responsibilities, some we choose and some we don't.
We all know about stress. So naturally people worry, "Is meditation one more thing I have to learn and figure out how to fit into my life?"
The answer is "yes," but it is the most simple, most gentle and easiest thing you'll ever have to learn. Meditation can take a few seconds: take a breath, focus inside and exhale. There, you've done it. Perhaps you already feel a little better.
Of course, we can elaborate. Check out my index for techniques that help you experience deeper meditations. If your goal is to balance the stress in your life, I suggest sprinkling your day with mini meditations: breathe in, focus on your feelings, and exhale.
These mini meditations are more powerful when we have compassion for our feelings. This is actually the most important part. By feeling compassion, you're relieving yourself from the stress — no matter how bad it feels.
We tend to be critical of feelings and think we should feel differently. This is counter-productive to relaxing. Think about how much compassion you need in order to balance out all the moments of judgment and criticism.
So take another moment to breathe, focus, feel compassion for yourself, and exhale. Repeat this every time you think of it throughout the day. And let me know how it works for you.
Susan Scott Morales is a meditation teacher, psychotherapist, published poet, novelist, and community contributor to AnnArbor.com and blogger on redroom.com. Tweet her @susanscottmoral, reach her at susanmmorales@yahoo.com or visit her website: susanscottmorales.com or fan page: https://www.facebook.com/susanscottmorales.writer.