Posted on
Fri, Aug 24, 2012 : 8 a.m.
Advocates urge Congress to sustain funding for cancer research
By Betsy de Parry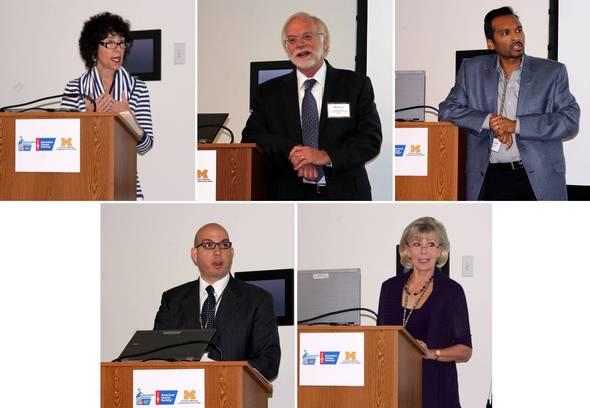 Because the Super Committee failed to reach a spending agreement last year, across-the-board spending cuts are set to take effect in 2013 if Congress fails to act. Those cuts include an 8 percent decrease in
funding for cancer research
, a decrease that would have devastating consequences for cancer patients.
Yesterday, the American Cancer Society Cancer Action Network (ASC CAN), the American Cancer Society (ACS) and the University of Michigan Comprehensive Cancer Center (UMCCC) went to bat for cancer patients when they hosted members of the Michigan congressional delegation at the North Campus Research Complex in Ann Arbor.
Dr. Ora Pescovitz, CEO of the University of Michigan Health System, Dr. Max Wicha, director of UMCCC, Dr. Arul Chinnaiyan, director of the Michigan Center for Translational Pathology, and David Pugach, director for federal relations at ACS, cited numerous reasons to sustain funding for cancer research.
I had the privilege of addressing the delegation, too, and boiled it down to this: federally funded cancer research saves lives. I know, because I was the beneficiary of a treatment that was, in part, federally funded.
In January 2002, I was diagnosed with an "incurable" form of non-Hodgkin lymphoma which didn't respond to therapies that were then available. In the nick of time, the FDA approved a new, targeted treatment.
Eighteen days from now will mark the 10th anniversary of that treatment. So much for incurable because I've been healthy since. But where would I be if research had stalled even for a few weeks? Most likely, not here.
Needless to say, my family and I will always be grateful to persistent scientists and to people we'll never know for sustaining funding that made their work available when I needed it.
But my story is only one of millions of stories of many federally-funded discoveries that have improved outcomes in many kinds of cancer since President Nixon launched the war on cancer and funding for research became a national priority.
Dr. Wicha credited that investment to helping scientists gain the unprecedented understanding of the mechanism of cancer that they have today, an understanding which has already guided them to earlier detection, preventive strategies and more gentle and more effective treatments for many types of the disease which, in turn, has led to the steady decline in the mortality rate and the increase in the survival rate for many types.
The progress that's been made is the result of the collective commitment of our nation's leaders to support our scientists who today stand on the precipice of accelerating progress faster than ever.
But fast is relative. Cancer research is not a sprint, but a marathon that unfortunately takes longer than some of us have or that any of us would like.
Though much progress has indeed been made, the work is far from over. This year alone, the families of more than half million Americans, including more than 20,000 in Michigan, will cry at the funerals of loved ones lost to cancer. That's 9/11 every two days and it's why we can't let our committed scientists slow down, not for a minute.
The doctors pointed to the good news, which is that today, researchers from many disciplines — engineering, medicine, biology, immunology, to name a few — are collaborating in ways they never have before. There is more than ever in the pipeline and the means to get ideas from labs to clinical trials to patients faster.
Indeed, if ever there were a time to sustain, even fuel, momentum, that time is now.
Dr. Pescovitz cited another benefit. "It's good for America," she said, adding that in 2011, cancer research generated 68 billion dollars in economic activity and supported nearly a half million jobs, including 12,000 jobs — good jobs — here in Michigan.
As small business owners, my husband and I — and others like us — depend on those kinds of good economic engines to help our businesses thrive.
But how can cancer research thrive with an 8 percent cut looming? How can scientists continue pushing forward? It can't. They can't. And I worry about the tragic consequences.
As someone who knows firsthand that steady progress in research means the difference between life or death for someone, I often think about the people who are — or soon will be — waiting for the breakthrough that will give them the chance to go on living their lives and loving their families after cancer.
They're our friends, our neighbors, our colleagues, our family members. Rich and poor, they're men, women and children of all ages, races, ethnicities, and yes, all political persuasions.
If there's one thing on which we should all be able to agree, it's that we must all unite to turn more cancer patients into cancer survivors.
The large and growing group of people like me who are living normal, healthy lives are living proof that it can be done — that it is being done. We stand as the return on our nation's investment in cancer research, as its greatest achievement, and as the fruits of bipartisan collaboration and commitment that has endured for all these 41 years since the National Cancer Act was signed into law.
For us, there are people to meet, places to go, fun to be had. There are families to love, children to raise, grandbabies to spoil. The people who follow in our footsteps deserve the same chance.
Even with today's economic challenges and competing interests, unwavering commitment to cancer research really is the only way to capitalize on and sustain the momentum from our previous investment. It's a smart strategy that pays off in improving public health, continuing innovation, and growing the economy.
But most importantly, unwavering commitment to cancer research pays off in saving lives. It helps keep families whole. It helps mothers, fathers, husbands, wives, brothers, sisters and children to live and love and laugh after cancer.
That's why I urge every legislator to take cancer out of the political arena and to commit to sustaining — better yet, increasing — funding for cancer research. Lives really are depending on it.
But my voice isn't enough. In these challenging times, it's going to take a mighty chorus of many voices. I'm very thankful that ASC CAN, ACS and UMCCC are strong chorus leaders, but they need every voice to help them get our legislators' attention.
You can help. It takes only a minute to sign ASC CAN's petition asking Congress to increase — not cut — funding for cancer research. Alternatively, you can call 1-888- NOW-ICAN (669-4226) and ASC CAN will patch you through to your legislator's office.
Betsy de Parry is the author of Adventures In Cancer Land. Find her on Facebook or email her.