Posted on
Wed, Jun 13, 2012 : 10:52 p.m.
Ann Arbor Marathon - come see us run!
By Jeff Jackson
Ann Arbor holds its first-ever marathon this Sunday, and I am pumped. It's mid-June, it promises to be a warm day, and I need to drag my butt to the starting area around 6:30 a.m., but this is a marathon in our town, and there's no way I'm going to miss it. Don't you miss it, either. If you're not running, please come out and cheer us on. Bug out of town for the Art Fair if you want, but this is different.
Let me tell you something about runners, folks. Some like the motivation and social interaction of running in a group, while others prefer to run solo, alone with their thoughts or music and tuning out the everyday. But there's one thing we all share: We. Love. Spectators.
Whether you're clapping, giving shout-outs to people you know, or just standing there in awe, we love it all. The rush from seeing all the people along the road is what gets many of us across that finish line when our bodies and minds are pleading with us to quit. How can we let the spectators down? It's showtime!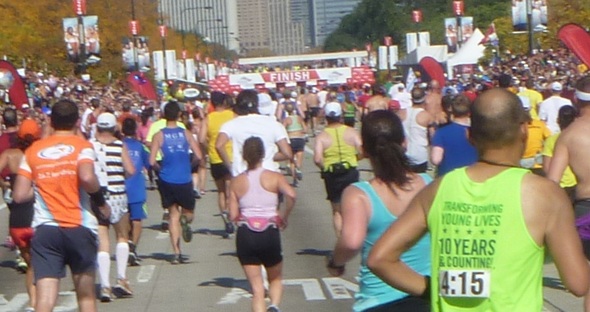 Jeff Jackson | Contributor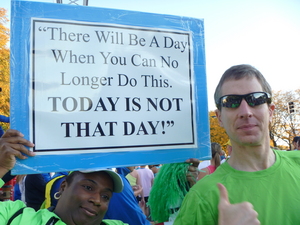 Jeff Jackson | Contributor
Want to hold up a sign? We love them, too. There must have been five or six signs at the 2011 Chicago Marathon that said, "Go Jeff," and while I knew logically that none were for me, I got a real lift out of each one. And funny signs are great too, like "Run Like There's a Zombie Behind You".
We do read and appreciate them, even if we're unable to acknowledge it at the time. Distance running can be as fatiguing mentally as it is physically, and anything to give our brains a boost is welcome.
Here's a quick breakdown of the route, if you're interested in finding a good spot to view the race. Course maps and more details are available on the marathon website.



Start: Main Street by the Big House. Gun goes off at 6:45 a.m.


Mile 1: Liberty near State Street


Miles 4-9: Huron Parkway between Geddes and Plymouth Road (out and back, with a detour down Hubbard)


Miles 12-14: Fuller Court, University of Michigan Hospital, the Arboretum


Miles 15-17: Washtenaw Avenue in the Burns Park area


Miles 18-20: State Street between South University and Briarwood Mall


Miles 21-22: Briarwood Circle


Miles 23-25: Main Street between Briarwood and Huron Street


Finish line: Elbel Field (where the marching band practices)


Jeff Jackson | Contributor
To see the front runners, plan your spots based on a finish time of around 2 hours 20 minutes, or around a 5 1/2 minutes per mile pace. The middle of the pack should finish in about 4 hours (9 minutes per mile).
If you see runners holding signs with numbers like "3:30", "4:00", etc., those are pacers —trained and experienced marathoners who have volunteered to run a particular finish time. They help runners who have a specific time goal. Too fast a start, and you could run out of gas before the finish; too slow, and you might not make your goal.
Want to learn more about running, fitness and nutrition, and see enough gear to equip yourself for the next century? Check out the Health and Fitness Expo at Briarwood Mall from 10 a.m.-4 p.m. on Saturday. Runners will be there picking up their race packets — bib, T-shirt, and such —and there will be booths from shoe companies, athletic supplements and gooey stuff, local gyms offering memberships, and other running organizations promoting their upcoming races.
And if you're thinking about becoming a last-minute participant, you have several choices of distance. In addition to the full marathon, there will also be a half marathon, 5K, and 1.2 mile kids run. At the time I am writing this, it appeared that space was still available in all events, and registration is easy and quick using the website.
For those of you wondering what this marathon thing is all about, here's a quick primer on the marathon and its history.
The name comes from a plain in Greece, where the Persian army landed in 490 B.C. to invade and conquer. Against great odds, an Athenian army attacked and drove the Persians back into their ships. Legend has it that a soldier ran back to Athens to announce the victory, and upon delivering the good news, he collapsed and died. Historians disagree on his name and even if the run really took place, but as legend is usually more entertaining than facts, the story stuck.
The length of the 1896 Olympic marathon was 40 kilometers (24.85 miles), the estimated distance from Marathon to Athens. The race distance fluctuated until 1924, when it was fixed at 26.22 miles. Hence the bumper stickers you see today with "26.2" on them.
Marathons are held today on all seven continents (yes, including Antarctica) and even at the North Pole.
Women were excluded from most marathons until the late 1960s, and there was no Olympic women's marathon until 1984. In addition to the sexism of the times ("Who wants to see women fainting from exhaustion?" said one Olympic official in 1960), it was thought that women did not have the stamina to run that distance. Today women comprise about 41 percent of marathon finishes.
Marathon running has soared in popularity. From an estimated 25,000 marathon finishes in 1976, over 500,000 finishes were recorded in 2011. And it isn't just a young person's event: runners 45 years and older made up 24 percent of the 2011 female finishes, and 36 percent of the men.
The youngest marathon finisher was 6 years old. The oldest, Fauja Singh, was 100 when he completed the Toronto Marathon in 2011. Not bad for a guy who started running at age 80!
So how about it? Have I persuaded you to be a part of this race as a runner or spectator? I hope so. See you there! And if not, please consider participating in some way at a future event, like the annual Shamrocks & Shenanigans 5K in March, or the Dexter-Ann Arbor run in early June. Support your local runners. They may be breathing too hard to show it, but they love you.

Jeff Jackson is a runner, cyclist, and student of Aikido who writes the Fitness at 50 blog. His other interests include history, writing, and food (especially coffee, bread, and chocolate). He can be reached at jeff@fitnessat50.net.