Posted on
Mon, Jul 2, 2012 : 5:57 a.m.
Treasured Memories program provides lasting legacies
By Alan Caldwell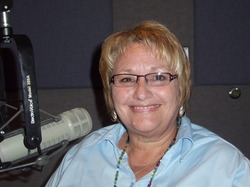 Those nearing the end of life have stories they want to share and memories they wish to keep alive. This message was shared by two guests from Arbor Hospice on the radio show this weekend. Sherry Wagenknecht is a volunteer coordinator with Arbor Hospice, and Dennis Sparks is a volunteer with the organization.
Arbor Hospice is a nonprofit serving Ann Arbor and seven counties in southeast Michigan. "It's about helping people as they face end of life, with support, care, and compassion," Sherry says. She added that they work with people's physical, spiritual, and emotional needs to try to provide the best quality of life.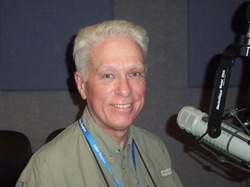 Dennis is a volunteer who focuses on the Arbor Hospice Treasured Memories program. He is a videographer, making videos of patients and their families at no cost.
Once the taping gets going, Dennis says the patients often forget about the camera and are just sharing feelings and hopes and wonderful stories. The taping may go on for two hours. Just last week Dennis videotaped a woman. "She sat with family, shared funny stories. She talked about her philosophy of life, and she then focused on each person — what she was grateful for, and what she appreciated about each one of them."
Sherry says they never have enough volunteers, and they could particularly use more volunteers for their in-home patients. Volunteers can help families with any number of things, including simply being there providing comfort.
Arbor Hospice is very flexible with their volunteers, working around whenever their volunteers have time to help. There is plenty of training available so that volunteers are comfortable and knowledgeable with the care they provide.
To hear this 13-minute discussion, click the audio link:
To get in touch with Sherry, Dennis, or Arbor Hospice, call their Volunteer Services at 734-794-5396 or visit their website arborhospice.org.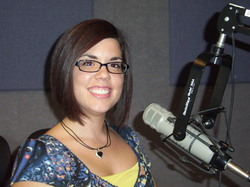 Photos by Sheila Doeden
We were pleased to have Christan Trabulsy on the show next. Christan is a certified driving training instructor with the American Automobile Association. The AAA has been around since cars have been on roads. The organization put up the first road signs and is very focused on driving safety.
The AAA offers instructions for teens to seniors. For their mature operator classes, there is a four-hour classroom session (Christan says this always includes some good story sharing). They also offer a 15-20 minute driving assessment where participants receive tips and suggestions for better driving.
Christan talked about common driving problems with those more elderly. Response times generally slow as we age, and seniors also frequently struggle with nighttime driving. Cognitively, those older may be more easily distracted and might forget momentarily where they are going. Seniors may also have more trouble judging the speed of approaching vehicles, which can be a problem when making left turns in front of traffic.
We talked about the new technology on the roads, particularly the growing number of roundabouts. Christan is a fan of these new intersections, and so are we. While they may initially cause some confusion, the bottom-line is they are safer. There isn't the high-speed cross traffic of a typical intersection with traffic lights. While there may be accidents at roundabouts, they are at slower speed, with fewer injuries.
Christan emphasized the value of planning ahead for when your loved one can no longer drive. Talk about transportation alternatives and how family members can assist with helping mom or dad get around. Developing a plan will greatly facilitate that transition.
To listen to this 13-minute talk, click the audio link:
To get in touch with Christan or AAA Driving Instruction, call 313-336-1508 or access their website aaaseniors.com.
Alan Caldwell and Sheila Doeden co-host Everything Elderly every Saturday morning at 8:30 on 1290 WLBY. In their day jobs, Alan and Sheila co-own and co-manage Senior Helpers, providing in-home care services, primarily to the elderly. Both can be contacted at homecareexcellence@seniorhelpers.com, or at 734-927-3111.