EVERYTHING ELDERLY
HEALTH:

New palliative care program offers in-home comfort care

Posted on Mon, Oct 8, 2012 : 5:57 a.m.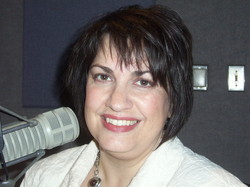 Arbor Hospice now offers an innovative palliative care program providing in-home comfort care. Gloria Brooks provided all the details on the radio show this past weekend. Gloria Brooks is the president and CEO of Arbor Hospice. This nonprofit organization has served Washtenaw County for nearly 30 years.

Arbor Hospice has a residence providing care for 26 patients, while most of their patients are serviced in their own homes or in senior care facilities. Across their service area, Arbor Hospice provides care for about 250 patients every day.

Arbor Palliative Care was created over the last year and has already experienced a very positive response in the community. Gloria explained the new program was launched "because of community need. They heard from physicians and families from the across their service area, there was this need beyond hospice care."

The palliative care program provides comfort care, basically providing a physician or nurse practitioner to be the eyes and ears of your own physician in your home. Those who are older than 18 with uncontrolled symptoms are potentially eligible for this care.

Gloria explained how patients may be discharged from the hospital but continue to experience discomfort and pain. They are not at the end of their life, but they still have uncontrolled symptoms. They are likely dealing with a chronic health illness and the related anxiety. The Arbor Palliative Care program can probably help these individuals.

The care is coordinated with your primary care physician. This is really of an extension of that physician's care, but in your own home. The program can reduce readmissions to the hospital due to inadequate symptom management.

To hear our 13-minute conversation, click the audio link:

To contact Gloria or the Arbor Palliative Care program, call 734-794-5678 or visit the website arborhospice.org.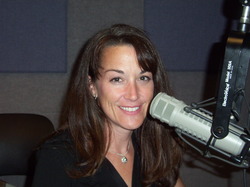 Photos by Sheila Doeden
We were most pleased to have Jennifer Howard join our discussion next. Jennifer is the executive director of the Alzheimer' Association, the Michigan Great Lakes Chapter. This organization supports research to find a cure for Alzheimer's disease. They also provide a wealth of helpful services to local families dealing with Alzheimer's, including family meetings, support groups, and connections to appropriate resources.
Jennifer provided all the details about a terrific fund-raising event on Sunday, Oct. 14. The Ann Arbor Walk to End Alzheimer's is at Gallup Park, with parking at Huron High School. Registration starts at 11 a.m., with the walk at 1 p.m. There will be plenty of fun and educational activities, including a very inspirational promise garden, Pre-registration is not required but is encouraged — sign up at alz.org or call 800-272-3900.
Jennifer told us that 5.4 million people in this country have Alzheimer's disease today, and if nothing changes, 16 million will have it by the year 2050. The cost of caring for all these people will be staggering (it already costs $200 billion annually today).
Jennifer stressed the importance of finding a cure or some type of treatment. Enormous amounts of money have been dedicated to most other fatal illnesses, like cancer and heart disease, and that research is paying off with declining death rates. This is not the case for Alzheimer's that has had limited research funding while the death rate continues to climb.
Jennifer's group is also hosting two other important events. On Oct. 16, the Schreiber Conference will be held in Kalamazoo, providing helpful information for caregivers. On Nov. 6, there will be a research talk at the University of Michigan Taubman Biomedical Science Research Building. For more details on these happenings, call the Alzheimer's Association.
To listen to this 13-minute talk, click the audio link:
To get in touch with Jennifer or the Alzheimer's Association, please call 800-272-3900 or visit the website alz.org.