Posted on
Mon, Oct 3, 2011 : 5:57 a.m.
Hospice care now includes pet therapy, with Alpine the therapy dog
By Alan Caldwell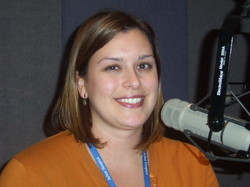 We had two wonderful guests for the show this past weekend. We learned all about hospice care and that it really is important to wash your hands!
Kelly Errer, a provider relations representative with Arbor Hospice, shared useful insights on what hospice truly means. Arbor Hospice is a local, nonprofit hospice provider. They have a 26-bed facility on Oak Valley Drive in Ann Arbor, although most of their patients receive care in their own homes (or in other facilities).
We talked about how the word hospice is frequently misunderstood. Kelly said that for many people, "hospice means giving up, letting your loved one die, giving up on mom or dad, while it really does the opposite." It's about providing great care for your mom or dad.
When discussing potential hospice care, Arbor Hospice wants to meet the family and patient "where they are at" in their mindset. Kelly likes to start the conversation explaining the benefits and all the services included within hospice care.
Kelly spoke about the complementary therapies offered by Arbor Hospice, including music therapy, massage therapy and pet therapy. We particularly enjoyed hearing all about their new pet therapy dog Alpine, a golden retriever who loves to be petted and hugged.
Patients respond very well to Alpine's visits, especially those folks that might be missing a pet they previously had. Alpine even has her own business card ("favorite TV show: Scooby Doo").
Kelly recently had the pleasure of seeing their musical therapist visit with a patient. The music brought a huge smile to the elderly woman and got her singing and laughing.
To listen to this 14-minute conversation, click the audio link:
To get in touch with Kelly or Arbor Hospice, call 800-997-9266, or visit their website arborhospice.org.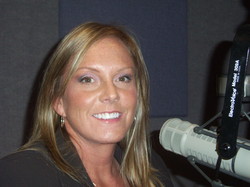 Photos by Sheila Doeden
In the second half of the show, we had a very informative chat with Dorothy Lewis from Glacier Hills. Dorothy is a registered nurse and the staff development and infection control coordinator at this senior living community.
Dorothy tracks infections in their patients and staff, with the objective of ensuring any infection is well controlled. In their Care and Rehabilitation Center, new patients may come from the hospital with an infection. To reduce the risk of that spreading to others, they implement appropriate isolation precautions. Also, many patients have had joint replacements, and the staff works to make certain the incisions don't become infected.
These days, Dorothy is very focused on the new cold and flu season. Glacier Hills is offering free flu shots to their staff. As Dorothy assured us, the flu shot does not give you the flu (another urban myth).
When it comes to infection control, Dorothy makes it clear, "Hand washing is the biggest thing." Washing with soap and water or an alcohol-based hand sanitizer is the best way to reduce infection risk. You should wash your hands for about 20 seconds, or "long enough to sing Happy Birthday."
Dorothy proudly talked about the recent annual state survey of the Glacier Hills Care and Rehab Center. This is a comprehensive evaluation of the complete operations — care records, medications, housekeeping, food service, everything. They were citation-free, the state found nothing wrong — a terrific result.
To listen to this 13-minute discussion, click the audio link:
To contact Dorothy Lewis, or Glacier Hills, call 734-769-0177 or visit their website glacierhills.org.
Alan Caldwell and Sheila Doeden co-host Everything Elderly every Saturday morning at 8:30 on 1290 WLBY. In their day jobs, Alan and Sheila co-own and co-manage Senior Helpers, providing in-home care services, primarily to the elderly. Both can be contacted at homecareexcellence@seniorhelpers.com, or at 734-927-3111.