Posted on
Thu, Feb 14, 2013 : 9:47 a.m.
High levels of arsenic found in some drinking water wells in Washtenaw County
By Washtenaw County Public Health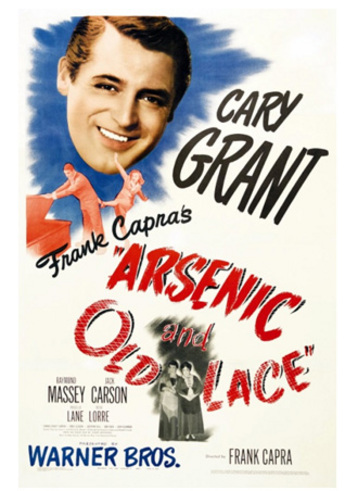 When you hear the word "
arsenic
," what comes to mind? Old apothecary jars? Rat poison? Perhaps Cary Grant's dark comedy "Arsenic and Old Lace"?
Arsenic is a documented human carcinogen and is associated with increased rates of bladder cancer. Based on studies in other countries, longterm exposure to high levels of arsenic has also been associated with thickening and discoloration of the skin, stomach pain and nausea, and numbness in the hands and feet.
People can be exposed to arsenic through foods they eat, and the water they drink. Food such as rice and certain fruit juices can have high levels of arsenic, and some studies show that several fruit juices commercially sold may have elevated arsenic levels.
Bottled water and municipal (or "city") water supplies are tested for arsenic on a routine basis. However, people who are served by private wells may not be aware of an arsenic problem, and may be exposed unsafe levels.
In 2012, the Washtenaw County Environmental Health office found 156 drinking water wells in the County with arsenic levels above the U.S. EPA level of 10 parts per billion (ppb).
Arsenic is a naturally occurring contaminant for the most part, and we first learned about the issue back in the late 1990s when arsenic was found in the Chelsea area while we were sampling for contamination from the Chelsea landfill. In 2004, when the federal government lowered the limit from 50 ppb to 10 ppb, Washtenaw County began requiring arsenic testing when a new or replacement water well is drilled, or when a home that is served by a well is sold.
In the beginning, we thought arsenic was related to certain bedrock formations in the northern and western portions of the County. However, arsenic has been found in pockets throughout the entire County.
Our office investigates these arsenic "hot spots." Currently, we have been focusing on an area in York Township where several wells have tested above the recommended limit.
Education is the key in these circumstances, as many homeowners have a difficult time understanding the entire picture when faced with a well that has tested with an elevated level of arsenic. We provide information to home homeowners on options they may want to consider on addressing the problem, information on why the health standard of 10 ppb was established, health effects associated with consuming too much arsenic, and background on area well depth and locations of other elevated arsenic samples.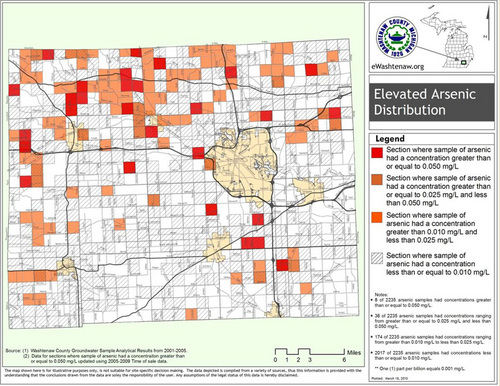 It's estimated that about 5 percent of the wells in Washtenaw County have elevated levels of arsenic. Fortunately, there is good news in managing the problem.
Our office approves the use of treatment devices if the water tests below 50 ppb. So far, treatment devices that can remove arsenic have been found to be very successful. Reverse osmosis water treatment systems are removing 92 percent of the arsenic from drinking water supplies.
It is important that homeowners who have arsenic removal systems maintain their system according to manufacturer recommendations and re-sample the well for arsenic on a regular basis to assure their treatment system is still properly functioning. All arsenic treatment systems must be maintained, or they will lose their ability to remove arsenic.
Arsenic does not behave like many groundwater contaminants, so we can't make assumptions based on what a neighbor has in their well. We have seen instances where one well will be arsenic free and a neighboring well, drilled into the same aquifer at the same depth, will have elevated arsenic. The levels appear to be associated with the type of minerals located in the exact area where a well is drilled, so it's important that individual wells be tested.
Bottles for testing wells for arsenic are available at the Washtenaw County Environmental Health Offices located at 705 N. Zeeb Road in Scio Township. The cost for doing an arsenic test is $17 per sample.
Homeowners can also access County records on their well by going to the following web link and searching by address: http://gisapp1.ewashtenaw.org/publicaccess/.
For more information, or if you have a specific question or concern about your well water, please contact the Environmental Health office at 734-222-3800 or visit the website http://environmentalhealth.ewashtenaw.org.
Leon Moore is an administrator with the Public Health Department's Washtenaw County Environmental Health Division. He can be reached at morel@ewashtenaw.org or 734-222-3848.