Posted on
Mon, Dec 12, 2011 : 5:57 a.m.
Making each day as great as it can be at Brecon Village
By Alan Caldwell
We talked about physical and financial health on the program this weekend. Val Fiott from Brecon Village visited with us first. Val is the director of wellness and physical health at Brecon Village, part of Evangelical Homes of Michigan. Evangelical Homes is a nonprofit organization that offers every aspect of senior care, from independent living through full nursing care services.
Val enthusiastically spoke about his position and his work with the senior population at Brecon Village. We loved hearing how his focus is on connecting with their residents to make "each day as great as it can be." He wants people to really enjoy their golden years.
For Val, wellness is not just about physical fitness, it's also about having a purpose. The senior years are time when you can have an exciting life. It's getting connected spiritually and emotionally to family/friends and taking on some new interests.
We discussed the successful fall prevention program offered at Brecon Village, called Fall Proof. This is a balance class, where the participants progressively move through a 24-lesson program, working on different muscle groups and their vestibular system. Fall Proof is about "waking up" the systems and nerves that are responsible for balance — stimulating these abilities. We are conditioned to believe we lose all this when we get older, but with some effort, that does not have to happen.
To listen to our 13-minute discussion, click the audio link:
To get in touch with Val or Evangelical Homes of Michigan, call 734-429-1155, or visit their website evangelicalhomes.org.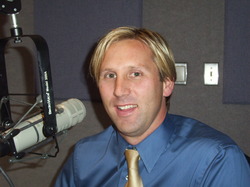 Photos by Sheila Doeden
For the second half of the show, we were pleased to welcome Matt Martin, a certified financial planner with Benz Financial. Benz has been in the Ann Arbor area for 80 years and offers a full range of insurance products and financial services.
Matt focuses on financial planning and enjoys sitting down and meeting with people to really understand their situation and what matters most to them and their families. He stressed the importance of having a complete written-down plan. This should include all the financial details of your life — income, pensions, social security, all expenses, and the interest charges you incur.
Importantly, the plan should also address the "what if's." What happens if one spouse passes away, or becomes disabled and needs significant care? The biggest concern people have is what happens if there is a significant change in one's health.
Families need to really think through who could and would help provide the required care and identify the concerns and potential care gaps. Long-term care insurance is potentially a very good solution to fill the identified gaps.
Long-term care insurance is not about hospice care; it's for the long term, to maintain quality of life, in many cases in your own home. And it's not a complicated process to apply for the insurance. It involves a short application and generally a short interview about your health history and your family's health history.
To listen to this 13-minute talk, click the audio link:
To contact Matt or Benz Financial, please call 734-998-1315 or you may visit their website benz-financial.com.
Alan Caldwell and Sheila Doeden co-host Everything Elderly every Saturday morning at 8:30 on 1290 WLBY. In their day jobs, Alan and Sheila co-own and co-manage Senior Helpers, providing in-home care services, primarily to the elderly. Both can be contacted at homecareexcellence@seniorhelpers.com, or at 734-927-3111.