Posted on
Mon, Oct 8, 2012 : 9:39 p.m.
Bike ride this weekend to support injured triathlete
By Jeff Jackson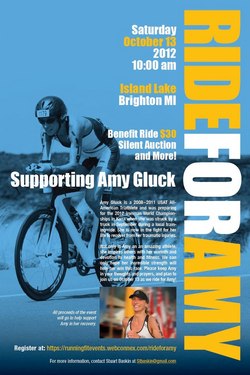 Image courtesy of Stuart Baskin
On Sept. 15, Southeast Michigan triathlete
Amy Gluck
was struck by a gravel-hauler truck while cycling near Lapeer. She was training for the
Ironman World Championship
(known colloquially as "the Kona") in Hawaii on Oct. 13. After spending several days in a medically-induced coma, she is slowly recovering. She remains in critical but stable condition at Henry Ford Hospital with multiple fractures and other injuries.
There will be a bike ride in Brighton on Saturday, Oct. 13 (the day Amy was supposed to compete in the Kona) to support her recovery. All proceeds will go directly to her care. You can sign up for the ride, or make a donation, at the "Ride for Amy" site.
Details about the ride's location, start time, and the silent auction to follow can be found at the League of Michigan Bicyclists site. You can also visit the SOAS Racing website to buy a "We Love Amy" sweatband for $10, with the entire purchase price going to support her recovery.
You can follow the discussion about the accident and Amy's recovery progress at this link.
Amy's accident is another reminder that cyclists and motorists need to be aware of and look out for each other. She was on a training ride in daylight, wearing an orange jersey, but the driver of the truck claims not to have seen her. In Michigan last year, bicycles were involved in 1,895 vehicle-related accidents, and while fatalities occur in less than two percent of reported accidents, about 80 percent result in injury [1]. With high fuel prices and the Ann Arbor area becoming increasingly bike-friendly, it becomes more important than ever to share the roads safely.
In an upcoming column, I will share my own experience with motor vehicles while cycling and suggest some things drivers can do to ease the minds of us cyclists without undue inconvenience. My advice will not agree with a very questionable campaign to encourage ride-sharing by discouraging the use of bike helmets.
[1] Source: Michigan Pedestrian and Bicycle Safety Action Plan 2009-2012, http://www.michigan.gov/documents/Ped-BicycleSafety3-7-06_162714_7.pdf
Jeff Jackson is a runner, cyclist, and student of Aikido who writes the Fitness at 50 blog. His other interests include history, writing and food (especially coffee, bread and chocolate). He can be reached at jeff@fitnessat50.net.