Posted on
Fri, Sep 23, 2011 : 8 a.m.
Studying blood cancers has helped unlock mysteries of disease, paved the way to better treatments
By Betsy de Parry
The blood cancers — leukemia, lymphoma and myeloma — rarely get much attention, even though, collectively, they account for 9.5 percent of all cancer deaths and 9 percent of new diagnoses in the U.S. — and even though they have historically played a significant role in unlocking the mysteries of cancer and in leading the way to better treatments for other types of cancer.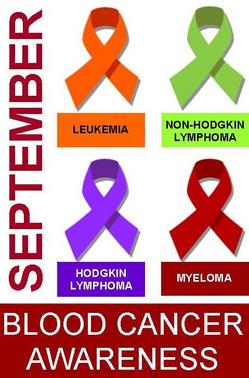 Since September is Blood Cancer Awareness Month, it's an appropriate time to increase understanding of these diseases, which are also often misunderstood.
And no wonder. Most have long, hard-to-pronounce, even weird-sounding names, none of which are attached to the "C" word, so I suppose I shouldn't be surprised at the puzzled looks when people hear, for example, hairy cell lymphoma or when they think that acute myelogenous leukemia or multiple myeloma is a virus, something akin to a bad case of the flu.
Yes, I've heard people ask if leukemia or lymphoma is a virus. As someone who has survived a blood cancer (follicular non-Hodgkin lymphoma), I can attest to the fact that every blood cancer — and there are many kinds — is infinitely worse than any flu you could ever imagine. And that's an understatement.
Suffice it to say that the blood cancers affect the normal production of blood cells, and blood, of course, is essential to life. But unless you have one of these diseases, it's less important to know the details about them than it is to know how they have impacted cancer therapy and why blood cancer research is so critically important.
It all began in the 1940s when the first chemotherapy drug was tested on lymphoma patients. Though temporary, their improvement was remarkable. These lymphoma patients, and the drug used to treat them, ushered in the era of chemotherapy.
Next — in the 1950s — came another chemotherapy drug with which Boston pathologist Sidney Farber treated children with acute lymphoblastic leukemia (ALL). While remissions were brief, they proved that chemotherapy drugs could induce remissions in a disease that had always been fatal. Soon, other chemotherapy drugs followed.
In the early 1960s, scientists reasoned that a combination of drugs might be more successful, and they combined chemotherapy drugs for treatment of children with ALL. The disease went from being fatal to mostly curable.
This combination approach was then used to treat Hodgkin lymphoma and, again, showed much greater success than using a single drug. Soon, combinations of drugs were used to treat other types of cancer with better results than single agents.
But chemotherapy is highly toxic, and scientists dreamed of finding new treatments that would target malignant cells while sparing healthy ones.
The idea of enlisting the body's own immune system to get rid of malignant cells had been around for many years, but enlisting the body's own immune system would require engineering man-made antibodies which could specifically target and attach to malignant cells and then call the immune system in to destroy them. Man-made antibodies were first produced in 1975 by fusing normal B-lymphocytes from mice with human myeloma cells.
This discovery led to the first FDA-approved monoclonal (man-made) antibody treatment for cancer in 1997 — specifically, Rituxan for treatment of non-Hodgkin lymphoma. Scientists began to notice that a drug used to treat one disease might also work in another. Today, Rituxan is also approved to treat rheumatoid arthritis and chronic lymphocytic leukemia (CLL). (Herceptin, well known for treatment of breast cancer, is another monoclonal antibody).
At the University of Michigan, Dr. Mark Kaminski took monoclonal antibody therapy a step further. He combined monoclonal antibodies with radioactive isotopes (molecules) which resulted in a treatment known as radioimmunotherapy (RIT), which not only calls the immune system into action, but also — for a dual action and extra lethal effect — delivers radiation directly to the tumor. Two RIT drugs were approved for treatment of non-Hodgkin lymphoma in 2002 and 2003.
But calling in our immune systems to fight cancer wasn't the only way scientists envisioned stopping cancer. Since uncontrolled growth is the hallmark of cancer cells, was there something in our genes that caused uncontrolled growth? And could it be stopped?
The first genetic abnormality to be identified in any cancer was identified in chronic myelogenous leukemia (CML). In 1960, scientists discovered that parts of two chromosomes switch places during the process of cell division, resulting in an abnormal gene which causes uncontrolled growth.
Developing a treatment to interrupt the malicious behavior of abnormal genes would take years of dedicated research and better technology. Finally, in 2001, Gleevec was the first drug approved by the FDA to specifically target and inhibit the activity of proteins produced by the abnormal genes in CML.
More importantly for patients, Gleevec turned CML from a fatal disease into one that can almost always be managed as a chronic illness. And it proved that targeting genetic abnormalities could stop cancer's deadly march.
UM's Dr. Moshe Talpaz is a pioneer of Gleevec, and by 2011, the drug had been approved to treat not only CML but also a handful of other types of rare cancers.
Scientists dug deeper into the biology of cancer cells and came up with other targeted therapies that either inhibit, inactivate, block or otherwise destroy them. Today, the National Cancer Institute lists 30 targeted therapies approved to treat a variety of cancers. Many more are in clinical trials.
Indeed, discoveries in blood cancers have helped to inform scientists about the genetic abnormalities of cancer and helped lead them to develop targeted therapies against them, but blood cancers didn't just usher in chemotherapy or lead the way in targeted therapies. It was a blood cancer that gave scientists a glimpse of why cancer may recur.
In the mid-1990s, a Toronto biologist identified a small population of cells within acute myelogenous leukemia (AML). This small population of cells, called cancer stem cells, had the ability to sustain cancer after therapy and cause recurrence.
Few scientists believed that cancer stem cells existed, much less that they could be found in solid tumors, but Dr. Max Wicha, Director of UM's Cancer Center, did. In 2003, Dr. Wicha discovered cancer stem cells in breast cancer. Soon, cancer stem cells were found in other solid cancers and the hunt to find drugs that will destroy them — and prevent metastasis — is on.
Thanks to strides that scientists have made in treating them, the mortality rate for many types of blood cancer has dropped significantly. Yet they still accounted for 9.5 percent of all cancer deaths in 2010, when 54,020 people died from a blood cancer, making them, collectively, the second leading cause of cancer death, behind only lung (157,300). Deaths from colon cancer (51,374), breast cancer (40,020) and prostate cancer (32,050) followed in third, fourth and fifth places.
Collectively, the blood cancers account for 9 percent of all new diagnoses in the U.S. In 2010, 137,260 adults were diagnosed with a blood cancer, making them the fourth most commonly occurring cancers behind lung (222,520 new cases), prostate (217,730 new cases) and breast (209,060 new cases).
Nearly a million people in the U.S. are living with a blood cancer, and the incidence of lymphoma has doubled since the 1970s. Scientists don't know why.
In children, leukemia and lymphoma account for approximately half of all childhood cancers. (And by the way, September is also Childhood Cancer Awareness Month).
Put another way, someone in the U.S. is diagnosed with a blood cancer every four minutes. And every 10 minutes, someone dies. We have a long way to go.
So now you know that the blood cancers may be less understood and less well known than some other types of cancer, but they have helped to unlock the mysteries of cancer and to pave the way for better treatments for many other types of cancer. More people are diagnosed than you may have thought, and too many families cry at the funerals of those who are still dying from them.
That's why those of us who have lived through one of the blood cancers are so passionate about finding a cure. And it's why many of us ask our families and friends to support organizations which fund research.
If you'd like to help, your opportunity is right around the corner. This fall, more than 200 communities in the U.S. will host a Light the Night Walk. These memorable walks are sponsored by the Leukemia and Lymphoma Society (LLS), which has invested more than $750 million in research since its founding. Last year, the organization awarded $72 million in research grants. Among the recipients were eight University of Michigan scientists who are working on novel therapies.
Here in Ann Arbor, Light The Night is scheduled for Oct. 8. I hope you'll join...or find a walk near you...because you'll be helping to find a cure for these dread diseases...and because you never know what mystery one of them may next unlock.
Betsy de Parry is the author of The Roller Coaster Chronicles and — coming late October — Adventures In Cancer Land. She is currently producing a series of reports about cancer that will air on the PBS show "A Wider World" beginning in November. Find her on Facebook or email her.