Posted on
Mon, Mar 12, 2012 : 5:57 a.m.
Caregiver fair a great opportunity for families with elderly loved ones
By Alan Caldwell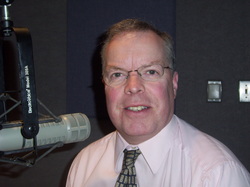 The First Annual Caregiver Fair is next weekend, Saturday, March 17, and we're really looking forward to what should be a great event! Kelvyn Williams was on the radio show this past weekend to talk about the upcoming fair. Kelvyn is the owner of BrightStar, a private duty home care company with offices in Ann Arbor and Brighton. BrightStar started the Washtenaw County Consortium on Aging, the official presenter of this caregiver event.
The fair is this coming Saturday, from 9 a.m. to 2 p.m. at the Kensington Court Hotel at 610 Hilton Blvd., near Briarwood Mall. Kelvyn explained there will be four presentations by industry experts, more than 60 exhibitors, great giveaways and an abundance of resources and information.
The Washtenaw County Consortium on Aging is modeled after the Livingston County Consortium on Aging, which has a successful 27-year existence. The idea behind both consortiums is to support and advocate for seniors.
Kelvyn emphasized how the consortium's mix of for-profit and nonprofit organizations provides a good balance and perspective on how best to support seniors. The groups are not about business networking; instead Kelvyn said, "they are doing groups," creating opportunities to help seniors through community grants and educational events (like the caregiver fair).
The fair is free, and families with elderly loved ones are strongly encouraged to attend. The presentations include Legal Solutions for Caregivers, Safety in the Home and Fall Prevention, Caring for the Caregiver, and Memory Loss, Dementia, and Alzheimer's Disease...the basics. They run from 9:30 to 1:15, and you may attend one presentation or all of them. To listen to our 13-minute talk, click the audio link:
To get in touch with Kelvyn or BrightStar, call 734-302-4215 or visit their website brightstarcare.com.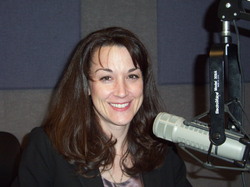 Photos by Sheila Doeden
Jennifer Howard joined the discussion next. Jennifer is the executive director of the Alzheimer's Association, the Michigan Great Lakes Chapter. Her organization is actively participating in the Caregiver Fair as an exhibitor, and their program coordinator, Stephen Campbell, is the speaker for the Memory Loss and Alzheimer's presentation.
The Alzheimer's Association is a nonprofit whose mission is to cure the disease and to provide programs and services for those with Alzheimer's and their families. Jennifer's chapter supports 23 counties in Michigan, and is headquartered in Chelsea.
They presently have 33 active support groups that offer families practical advice on dealing with the disease. There is also a 24-hour hotline to talk about issues and get real-time information (1-800-272-3900).
There are an estimated 500,000 people in Michigan that have Alzheimer's or are taking care of someone with the disease. Jennifer's organization is working to better educate families on what to expect, how the disease progresses and how to have families prepared.
Safety is always a concern. Those with Alzheimer's may have trouble using appliances safely, and driving is certainly a frequent issue. Those with the disease can often take care of themselves; they may just need someone to remind them, to provide cues.
The Alzheimer's Association has several wonderful events on the horizon. The Second Annual Alzheimer's Awareness Day is at Comerica Park on May 6 for the Tigers vs. White Sox game. The Ann Arbor Golf Outing is on July 9. And walk teams are already forming for the Ann Arbor Walk to End Alzheimer's on Oct. 14 at Gallup Park.
To hear this 13-minute discussion, click the audio link:
To get in touch with Jennifer or the Alzheimer's Association, call 800-272-3900, or go to the website alz.org.
Alan Caldwell and Sheila Doeden co-host Everything Elderly every Saturday morning at 8:30 on 1290 WLBY. In their day jobs, Alan and Sheila co-own and co-manage Senior Helpers, providing in-home care services, primarily to the elderly. Both can be contacted at homecareexcellence@seniorhelpers.com, or at 734-927-3111.