Posted on
Mon, Oct 29, 2012 : 5:57 a.m.
Assisted living community appreciates the uniqueness of each of their residents
By Alan Caldwell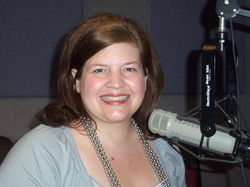 These days, senior care facilities are simply not the nursing homes of the past. Tanum Ollila, sales and marketing manager of Brookdale Place of Ann Arbor, made this point on the radio show this past weekend. Brookdale Place is a great example of how much senior communities have evolved. Tanum is a wonderful ambassador for her community, and she really understands what good senior care is all about.
Tanum shared how Brookdale Place wants to be home for their residents through the end of life. They are able to safely take care of their residents as they age, helping those that need memory care or have declining health, and even facilitating hospice care when appropriate.
Brookdale Place has a specific memory care community called Clare Bridge. Tanum talked about the Daily Path program for these residents. Each individual has a unique plan tailored to their specific needs and wants. It's six or seven activities that occur daily, with a focus on life enrichment.
Tanum emphasized the importance of giving purpose to the lives of their residents. They have a retired restaurant owner who now thoroughly enjoys helping in the kitchen and dining room. As Tanum stated, "Giving the residents purpose makes all the difference in the world, it really makes them feel good."
Many of the residents help create the activities offered. Tanum mentioned Paul's Walking Club, Viola's Bible Study and Devotion, and Charlotte's Green Thumb Club, to name a few.
Pets are also a big part of life at Brookdale. Tanum shared that they currently have five dogs in the community. The pets can stay at Brookdale for the rest of their lives as well.
To hear our 13-minute conversation, click the audio link:
To contact Tanum or Brookdale Place, call 734-327-1350 or visit their website brookdaleliving.com.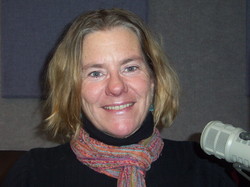 Complete Health Services is a new umbrella organization on Clark Road in Ypsilanti. Michaela Brennan, their public health practitioner, explained how Complete offers a full array of in-home services, including house physicians, skilled home care, durable medical equipment and hospice care.
Odile Hugonot Haber joined Michaela on the program to explain their hospice care, Michigan Hospice. Odile is the director of nursing and emphasized the focus is patient comfort and quality care.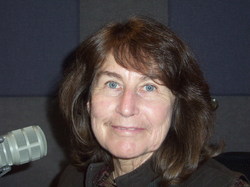 Photos by Sheila Doeden
It was useful to hear Odile address some of the myths of hospice care. This care is not just for the very end of life. Hospice is palliative care to be comfortable and manage symptoms. It's about celebrating life, and having as much life as possible for the time left.
As we approach our end of life, Odile said, "What we want most is to be loved, to be with those we cherish, and to feel this supportive team all around you — it's a big relief."
Michigan Hospice care is provided by an interdisciplinary team including physicians, nurses, health aides, social workers, a chaplain, and physical and massage therapists. Odile emphasized that the family is in the circle of the team and how communication with the family is so important.
Michaela shared some terrific resources to learn more about home care and specifically hospice care. An article from The New Yorker, "Letting Go", by Atul Gawande provides a perspective on medicine's role when it can no longer save lives.
Michaela also recommends a book by Dr. Ira Byock, "The Best Care Possible, a Physician's Quest to Transform Care Through the End of Life." This publication tells how nearly half of us spend our last days hooked up to machines in the hospitals, not the end of life that most of us want.
To listen to this 13-minute talk, click the audio link:
To get in touch with Michaela or Odile or Complete Health Services, call 734-677-9840 or visit the website mihospice.com.
Alan Caldwell and Sheila Doeden co-host Everything Elderly every Saturday morning at 8:30 on 1290 WLBY. In their day jobs, Alan and Sheila co-own and co-manage Senior Helpers, providing in-home care services, primarily to the elderly. Both can be contacted at homecareexcellence@seniorhelpers.com, or at 734-927-3111.