EVERYTHING ELDERLY
HEALTH:

Ann Arbor assisted living community suggests moving in with your best friend - your pet

Posted on Mon, Jun 6, 2011 : 5:57 a.m.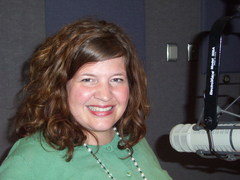 One of the things I love most about caring for seniors are the wonderful, compassionate people that share this career choice. We had some great examples with our guests on our radio show this past weekend.
Tanum Ollila is the sales and marketing manager at Brookdale Place Ann Arbor. Tanum so obviously loves her job and her community, which offers assisted living and dementia care.
The staff really focuses on the individual resident at Brookdale, with their 'Optimum Life' approach, getting to know each resident's likes and dislikes. They want to understand what makes each of them unique and what each person needs and wants to have their best life.
We were intrigued by Brookdale's 'Move in with Your Best Friend' program. You are allowed (encouraged) to move in with your dog, cat or bird. Their community knows that pets are wonderful caregivers that provide tremendous benefits to their residents.
Tanum said "the staff is devoted to helping all the residents with their daily needs, including those with wet noses". Importantly, if a resident becomes unable to take care of his or her pet, the staff will take over that responsibility. And having 70 people in the community to love you, it's a great place for a dog or cat.
Tanum spoke about the numerous activities that happen daily at Brookdale, and the many special events scheduled for this summer.
To listen to the 12-minute discussion with Tanum, click the audio link:
To get in touch with Tanum, or to learn more about Brookdale Place Ann Arbor, you may call 734-327-1350, or visit the website brookdaleliving.com.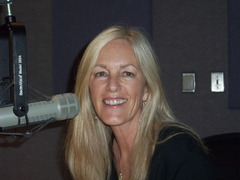 Photos by Sheila Doeden
We were very pleased to next welcome Tamara Sutton. Tamara is a grief coach, a life coach and an author and works with a company called Peaceful Crossings.
The death 15 years ago of Tamara's own 23-year-old son led to her current passion. After his death, she filled several journals with her thoughts, and ultimately published her book, "Demetrius, My Gift of Life".
Tamara spoke of the stories that all older people have, and how important it is to share those stories that have been held back. Her father is 87 and never spoke of his World War II experience. He held his secrets for a very long time. Her father finally started talking about this a couple years ago, and it's become clear his life is very grounded in his wartime experience.
So many elders have so much to talk about, but they have held back. The telling of the stories is so critical. Those sharing are affirming: "We were here, we had a life, we contributed."
Tamara confidently and convincingly seems to understand grief. She says, "Grief is a tricky animal, and you have to deal with it in your own individual way; everyone needs to call their own shots." She further elaborates, "You need to find the exact words that describe your feelings, then you have significance and that's everything."
To listen to the 12-minute talk with Tamara, click the audio link:
To get in touch with the Tamara Sutton, please call 517-896-3173, or access her website tamarasutton.com.