Posted on
Wed, May 9, 2012 : 10:21 p.m.
Calling all boomers: Get up, gear up, get active
By Jeff Jackson
Photo by Doug Jackson
Are you a baby boomer, age 50 or older, or about to hit that milestone number?
Congratulations! It's a great time to be alive. In 1900, the average life expectancy was just 47 years. Today that number is close to 80, and it's likely to increase further in the years ahead. What did (or does) reaching 50 mean to you? Has it changed your outlook at all? Have you made or do you intend on any lifestyle changes to help you make the rest of your life the best it can be?
Last December I joined more than 4 million Americans who turned 50 in 2011 ("late boomers," as it were). I want to maintain a high quality of life for as long as possible, and I'll go out on a limb and assume everyone else wants this, too.
And the prospects are excellent; these days there's a greater level of nutritional awareness, plentiful options for exercise and physical therapy, and a preventive approach to health care with incentives from insurance companies to stay active and fit. And with the 50-and-over demographic segment expected to make up 45 percent of the U.S. population by 2015, our voices will be heard; if we want something bad enough, we'll get it.
So are boomers taking advantage of the opportunities to improve their quality of life? Some sure are; the number of over-50 marathon runners continues to increase, and in a study sponsored by Humana, Inc. 75 percent of the respondents over age 50 reported exercising three or more times per week. But according to a New York Daily News article, about two-thirds of all boomers are overweight, with about half of those considered obese.
Clearly, not everyone is joining the party. I suspect many of you, like me not all that long ago, would like to be more active and lead a healthier lifestyle, but don't know where to start or don't think you have the time. In my mid-forties, I decided to make the time and start training, and "Fitness at 50" is the result.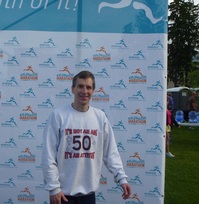 Photo by Rachel Jackson
I'm celebrating 2012 (my "year of being 50") with a series of activities stretching my body and mind in new ways, both to challenge myself and to show what can be done at age 50 and beyond. Here are a few of my goals this year:
Run and bike a combined total of at least 2,500 miles (50x50)
Run a 50K ultramarathon
Take a 500-mile bike trip
Attend 50 Aikido classes in one month (completed)
Write a novel of at least 50,000 words
Now, I didn't go from inactivity to all this overnight. But the good news is that improvement — even rapid improvement — can happen at any age. I began running seriously at age 46 and just four years later I am performing near the top of my age group. For a really amazing example, one guy I correspond with went from couch potato at age 52 to completing an Ironman triathlon at 55.
In future columns, I will be reporting on my adventures and discoveries from this year of celebration and the lessons I learn along the way. I'll also be talking to other active people in their 40s, 50s, and older, sharing their stories about what they do to keep fit, what they enjoy about it, and what motivates them to keep going through the not-so-enjoyable parts. I hope at least a few of you out there will be inspired to join me in getting more active and getting or keeping fit. It's good for you!

Photo by Rachel Jackson
I would like to hear your stories, too! If you've started a fitness program, or have a success story (such as a couch-to-5K program), email me at
jeff@fitnessat50.net
and let me know if I can quote you.
Jeff Jackson is a runner, cyclist, and student of Aikido who writes the Fitness at 50 blog. His other interests include history, writing, and food (especially coffee, bread and chocolate). He can be reached at jeff@fitnessat50.net.