Posted on
Fri, Nov 30, 2012 : 7:30 a.m.
Cancer researchers at UM's North Campus Research Complex push for new therapies
By Betsy de Parry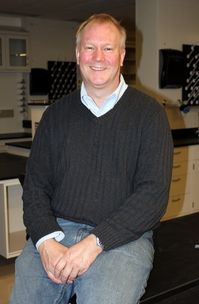 Betsy de Parry
Colin Duckett's
eyes light up when he talks about the present and future of the
North Campus Research Complex
(NCRC). And what a future it has, from fundamentally changing how scientists approach research to growing the economy throughout southeast Michigan.
For anyone who doesn't know by now, the NCRC was once home to pharmaceutical giant Pfizer. In January 2007, the company — then Ann Arbor's largest private employer — shocked the city when it announced plans to close the facility.
In October 2008, the last 34 of its former 2,100 employees locked the doors for the last time, leaving the sprawling 174-acre research campus a ghost town, along with its 28 buildings that house 2.1 million square feet of office, research and manufacturing space.
In June 2009, the University of Michigan acquired the site and began an unprecedented expansion of its already acclaimed research endeavors.
By the end of this fiscal year, nearly 2,000 employees will be working at NCRC in almost half the available space. The Annual Report, just released online, shows how far and fast NCRC has come since the acquisition.
As director of program development of NCRC, Dr. Duckett is responsible, in the very broadest sense, for leading the campus to its highest and best use. It's a role, he says, that's both multi-faceted and evolving.
Of course a large part of the campus is devoted to research, but Dr. Duckett makes it clear that the campus will also promote the formation of businesses.
Already, in addition to the presence on the campus of several private companies, 19 companies have set up shop in the Venture Accelerator at NCRC. They're moving new innovations that were developed at the university into the marketplace, thus creating jobs and boosting the economy.
But what I really wanted to know was what NCRC means to someone who faces cancer.
Dr. Duckett's vision is that discoveries made there will drive treatment. "With the great spectrum of cancer researchers that we've got here," he says, "many are particularly well placed to take discoveries and turn them into treatments that can be used to cure patients."
Dr. Duckett's own lab will soon move from the main campus. He and his colleagues study how cells respond to internal and external cues. More specifically, they study apoptosis, a normal process in which cells die when they are no longer needed, or when they become damaged.
Apoptosis is controlled by signals that are carried by a series of proteins that form networks within cells. When the proteins inhibit apoptosis, cells no longer die when they should, and uncontrolled growth — i.e., cancer — results.
Dr. Duckett and his colleagues are examining the role of a group of proteins known as IAPs (Inhibitors of Apoptosis) and exploring the therapeutic potential of targeting them.
The ultimate goal, he tells me, is not to come up with something that makes chemotherapy more bearable but to replace chemotherapy with less toxic, more effective therapies. He quickly adds that it's not just his goal but the goal of scientists throughout the country and, indeed, the world.
So how can that goal be reached most expeditiously? By bringing together scientists from different disciplines and enabling them to work side by side.
Dr. Duckett points out that this isn't a new concept. It's happening, he tells me, all across campus, adding, "There's a huge amount of goodwill here at the university, and people want to collaborate."
But prior to having NCRC, investigators were isolated, i.e., chemists were in the chemistry buildings, biologists in the biology buildings, engineers in the engineering buildings, and so forth.
NCRC enables investigators from different disciplines — medical researchers, biologists, chemists, pharmacologists, engineers, etc. — to co-exist in the same space, thus giving them a chance to talk together and to collaborate in ways they've not been able to do before.
And the mission, in the case of cancer research, is to speed discoveries to patients.
The Translational Oncology Program (TOP) at NCRC advances that mission. Led by Dr. Diane Simeone, up to 40 laboratories from many different departments, schools and institutes, are coming together to focus on how science can best be "translated" into practical ways of treating patients.
The program is keenly focused on accelerating the development and testing of new treatments and to facilitate moving discoveries into the clinic so that patients can benefit from them.
This kind of collaboration is great news for cancer research: when people from different disciplines work on the same problem, science moves forward faster, so it's easy to see how NCRC is a key player in changing the way cancer is prevented and treated.
"It may be, though," says Dr. Duckett, "that the person who is cured by a novel treatment developed by a Michigan-based researcher, or a multinational team that includes scientists from UM, may never visit Michigan or even know what NCRC is. And that's fine."
Indeed. As we wandered through many of the NCRC buildings — some occupied, some empty — Dr. Duckett pointed out office space and labs, including the one where Pfizer's blockbuster drug Lipitor was developed, and I couldn't help but marvel at spaces where discoveries were made that helped people far beyond the borders of Ann Arbor.
Today, that's happening again. Some of the labs are in full swing. Others are gearing up. New discoveries will be made, and they'll help people everywhere.
Few of us will ever know the names of the people who work at NCRC, but collectively, their megawatts of brainpower and passion fuel innovation, and that means more people will get to go on living their lives after cancer.
That's why NCRC, for those who face cancer, is so much more than a collection of buildings. It's a place where hope and promise hang from every wall.
Betsy de Parry is the author of Adventures In Cancer Land. Find her on Facebook or email her.