Posted on
Mon, Nov 22, 2010 : 10:05 a.m.
Cancer survivors say TSA screenings humiliated them
By Juliana Keeping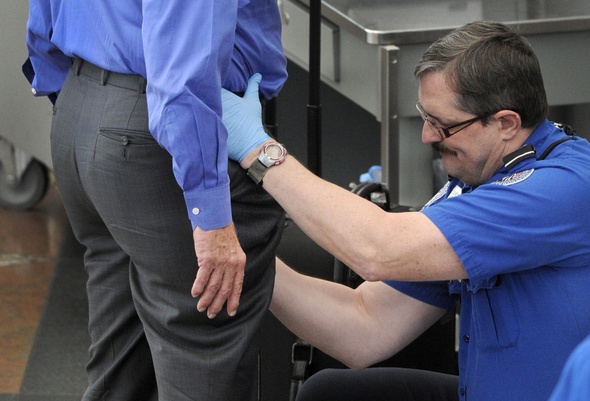 AP Photo | The Denver Post, Craig F. Walker
Outrage over TSA screenings has reached a fever pitch — at least in the media.
A number of cancer survivors are speaking out, saying TSA screeners humiliated them.

New this month, individuals who refuse a body scan that uses advanced imaging technology to see through clothing are subject to a more aggressive pat-down.
A Lansing man who survived bladder cancer said a TSA pat-down at Detroit Metro left him covered in his own urine, humiliated.
Thomas D. Sawyer, of Lansing, wears a urostomy bag as a result of cancer treatment. That bag broke during the screening, the Associated Press reported. According to the AP, the screeners did not apologize, and he plans to file a formal complaint.
A woman who survived breast cancer said she was humiliated when a TSA screener asked to see her prosthetic breast.
Cathy Bossi, a flight attendant from the Charlotte, North Carolina area, said the experience was horrific.
Not up to speed on the TSA outrage?
Here are a few of the latest links:
Take our poll and tell us what you think about body scans and pat-downs in the comments section below.
Juliana Keeping is a health and environment reporter for AnnArbor.com. Reach her at julianakeeping@annarbor.com or 734-623-2528. Follow Juliana Keeping on Twitter